Ukraine's first printed book vanishes along with restoration artist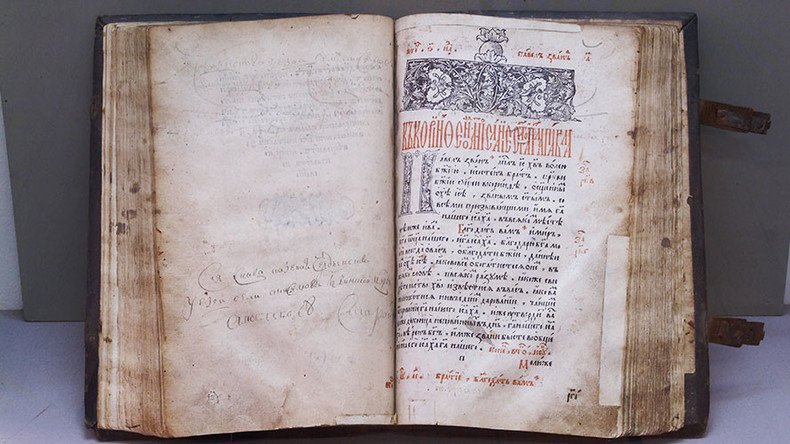 A copy of the Apostolos, the first book printed in modern-day Ukraine by the renowned Russian printer Ivan Fyodorov, has gone missing from a conservation center in Kiev together with the artist who worked on its restoration.
Work on the 1574 book has been underway for the last three years at Ukraine's National Conservation Center and was to be completed by the end of September. However, it was then revealed that the historic volume had gone missing, Svetlana Strelnikova, the director of the center, told Ukraine's Vesti website.
"At first, our employee asked for more time to finish the restoration. Then he said that he had health problems, with that being the reason for him not being able to complete the work on the Apostolos. And then he disappeared altogether. He wasn't answering phone calls and didn't show up at his stated place of residence," Strelnikova said.
The conservation center called police to help retrieve the book. Investigators have already questioned the artist's relatives who said they last saw the man on September 18.
"Later that day, a drunken husband called me from an unknown number and said that he was in Chernigov [in northern Ukraine] and that the book had been stolen from him," the artist's wife told police.
Despite the woman saying that her husband promised to come to the conservation center the next day and "explain everything," he never showed up.
The missing copy of Apostolos is a National Historical and Cultural Heritage of Ukraine, police said. According to Vesti, the book may fetch a price of up to $111,800.
The Apostolos was first printed in Moscow in 1563-64 by Ivan Fyodorov, who is considered the father of Russian printing.
Fedorov ran another issue of the book in Lvov in 1574, making it also the first printed book on modern Ukrainian territory, then part of Polish–Lithuanian Commonwealth. Around 90 copies of the Lvov issue remain until this day.
This is the second case of an Apostolos copy going missing in Ukraine in two years. Another tome was stolen from the Vernadsky National Library of Ukraine last year, with police saying the perpetrators planned to sell the book for $150,000.
You can share this story on social media: