Al-Nusra terrorists may have received Syria 'aid' sent to rebels by Qatar, US, Saudis – Qatari ex-FM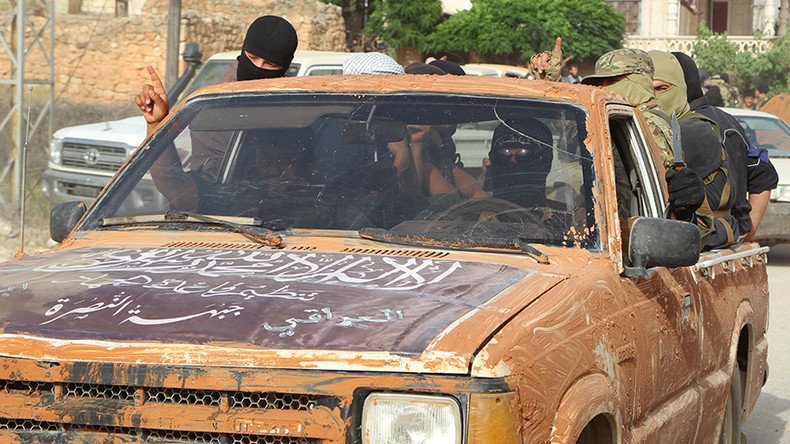 Some of the military aid sent to the Syrian opposition by Qatar, Turkey, Saudi Arabia and the US may have ended up in the hands of Al-Qaeda-affiliated Al-Nusra terrorists, the Qatari foreign minister has admitted.
The revelations, which are the first of their kind to emerge, were contained in a statement by Hamad bin Jassim bin Jaber Al Thani, who served as Qatari foreign minister between 1992 and 2013. When the conflict started in Syria back in 2011, Hamad bin Jassim said that he went straight to the late Saudi King Abdullah, who then supported Doha's plan on Syria.
While Qatar is now being accused by the Gulf kingdoms of backing terrorism, Hamad bin Jassim insists that when the Syrian crisis broke out, Doha, Riyadh and Washington were "in one and the same trench" in their vision on supporting anti-Assad militants. He made the comments during a television interview with Qatar TV in October.
According to the former minister, all aid destined for the Syrian rebels passed via Turkey and was coordinated with the US forces. "All aid distributed on Syrian territory was also coordinated by the US forces," said Hamad bin Jassim who also served as Qatari prime minister between 2007 and 2013.
He did not specify who exactly was to receive the aid, but the US – together with Qatar, Saudi Arabia and Turkey – have repeatedly voiced their support for Syrian opposition and issued both humanitarian and military aid to anti-government militants.
READ MORE: US using Al-Nusra terrorists to undermine Astana peace talks progress – Syrian FM
Distributing aid wasn't always smooth and on at least one occasion the shipment might have fallen into the hands of terrorists, which the former official suggested were from the group formerly known as Al-Nusra Front.
"Maybe there was some 'interaction' with Al-Nusra militants," Hamad bin Jassim said. He did state that Islamic State (IS, formerly known as ISIS/ISIL) terrorists were not the ones who received this unspecified aid.
At the same time, he stressed that Qatar "stopped" all interactions with Al-Nusra Front after the group was formally recognized as a terrorist organization by the international community. However, he did not specify whether the group had been supported by Doha and its allies prior to this decision.
الشيخ حمد بن جاسم : كل الدعم الذي وصل السوريين كان بالتنسيق مع الأتراك والأمريكان .. #الحقيقة

— تلفزيون قطر (@QatarTelevision) October 25, 2017
The politician apparently likened Assad and his government to "prey" that was hunted by the Gulf monarchies and their allies but eventually got away: "We've all focused on liberation of Syria, but we all were fighting over the prey [Syria] and now the prey is gone. And many people in Syria died," he said.
With Syrian President Bashar Assad still in power after years of war, many countries have suggested that he should remain, the Qatari ex-minister said. He voiced his frustration that the then-allies did not coordinate their policy shift with Doha: "I don't object to one changing his mind if he finds that he was wrong, but at least inform your partner."
The Syrian war, which triggered a major refugee crisis, entered its sixth year last March. The Damascus government has repeatedly dubbed the US-led campaign in the region as "illegitimate." In September, Syrian Foreign Minister Walid Muallem said that the US was enabling former Al-Nusra jihadists to subvert the Astana peace process.
According to data from Russian Defence Ministry, an offensive launched by Al-Nusra terrorists and their allies in Syria in September was orchestrated by US security services, aimed at derailing the Syrian Army operation near Deir ez-Zor.
READ MORE: US security services behind Al Nusra offensive in Syria's Idlib – Russian MoD
This is not the first time that US aid has been found to have ended up in the wrong hands. In May, a declassified audit from the US Department of Defense showed that negligent accounting by the US military had resulted in the Pentagon not knowing what happened to more than $1 billion in arms and equipment meant for the Iraqi Army. The findings were made public as a result of a Freedom of Information Act (FOIA) request from human-rights group Amnesty International.
You can share this story on social media: