Saudi Arabia to allow women to attend stadiums in 2018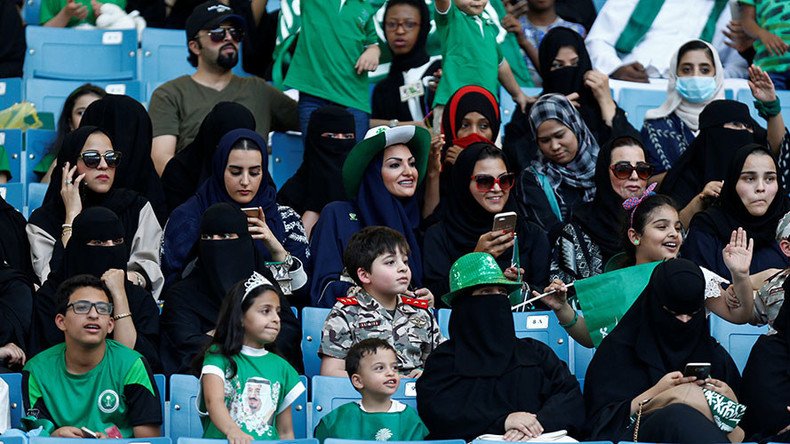 Women in Saudi Arabia will finally be allowed to attend sports events at stadiums in the kingdom's three major cities starting from 2018, as the country implements reforms, slowly shifting towards "moderate Islam."
READ MORE: Ultra-conservatism takes backseat? How Saudi Crown Prince could 'fundamentally change' kingdom
Saudi Arabia is "starting the preparation of three stadiums in Riyadh, Jeddah, and Damman to be ready to accommodate families from early 2018," the country's General Sports Authority announced Sunday. The decision to allow entire families is "in line with the orientations of our wise leadership and its interest of all sectors of society," it said in a statement.
The Chairman of the General Authority for Sports in Saudi Arabia, Turki Al-Sheikh, confirmed that stadiums will begin making preparations allow women in the stands, goal.com reported.
Saudi Arabia allowed women to enter the King Fahd International Stadium in Riyadh for the first time in September to witness the 87th anniversary celebrations of the country's foundation.
READ MORE: Saudi Arabia will 'return to moderate, open Islam' – Crown Prince
The new measures announced Sunday falls in line with the policies of Crown Prince Mohammed bin Salman who is on a quest to modernize Saudi society. On Wednesday, the heir apparent to the Saudi throne stated that he wants the Kingdom to return to "moderate Islam" as part of his "Vision 2030" for social and economic reform.
Part of bin Salman's ambitious plans for the country's future is to build a $500 billion mega-city using the latest technology. Once erected, NEOM city will span over 26,500 square kilometers, an area more than 33 times the size of New York City.
As a result of King Salman's (his father) retreat from the public stage, Prince Mohammed "has become the de-facto decision-maker in the Kingdom of late," Assistant Professor of Political Science at Bluefield State College and expert on Gulf affairs Colin S. Cavell told RT. The political analyst believes the young prince triggered domestic reforms that "if fully implemented, would fundamentally change the nature of the Saudi regime."
In September, Saudi Arabia announced that it would allow women to drive starting from June 2018. However, despite all the recent breakthroughs and changes, Saudi Arabia remains among the counties with a strict adherence to ultra-conservative norms of Islam, and with some of the most severe punishments for breaking both religious and criminal laws.
You can share this story on social media: