'Europe already within N. Korean missile range, NATO members in danger' – Stoltenberg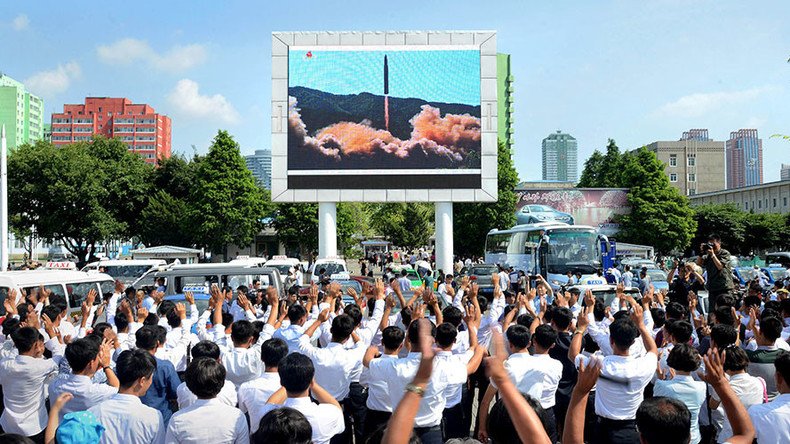 North Korean missiles now have the range to strike Europe which puts NATO members in danger, Jens Stoltenberg has stated ahead of his visit to Japan and South Korea, saying the military alliance has the capabilities to respond to any threat.
"We recognize that Europe has also entered the [North Korean] missile range, and NATO member states are already in danger," North Atlantic Treaty Organization (NATO) Secretary General Stoltenberg told the Yomiuri Shimbun newspaper. "NATO has protected its member countries from the threat of ballistic missiles through deterrence," but more diplomatic effort is needed to find a peaceful solution to the conflict, he added.
"NATO has the capabilities and the resolve to respond to any threat and to any aggressor," he made clear in a separate interview with Jiji Press published Sunday, emphasizing that the military alliance does not want war. "No NATO allies and of course NATO do not want war… that would be a disaster."
Stoltenberg is set to visit Japan on Monday and Tuesday where he will meet with Japanese Prime Minister Shinzo Abe and Defense Minister Itsunori Onodera. The NATO chief will also visit Japan's navy base in Yokosuka before travelling to South Korea.
NATO is not directly involved in attempts to resolve the ongoing North Korean crisis, but the alliance fully supports its allies in the region, and which the US has vowed to protect.
US Defense Secretary Jim Mattis, on a visit to South Korea Saturday, was emphatic in his response to an attack by Pyongyang. "Make no mistake – any attack on the United States, or our allies, will be defeated. And any use of nuclear weapons will be met with a massive military response that is both effective and overwhelming,"
Washington insists that North Korea may be months away from being a credible nuclear threat to the US mainland and has vowed to prevent that from happening, whatever the cost. However, Pyongyang is believed to be already in possession of technology that can strike any US allies in Asia-Pacific, including the US territory of Guam.
NATO's anti-missile shield, which is currently being developed under US guidance, is reportedly designed to protect European nations from threats – such as those voiced by Stoltenberg – by states such as North Korea and Iran. The missile shield uses a network of radars that track potential threats in the atmosphere, before launching an interceptor missile from a stationary base or a vessel.
Last year, NATO formally declared its missile defense base in Deveselu, Romania to be operational, bringing to fruition a plan to construct a shield in Eastern Europe first announced by George W. Bush in 2007. Simultaneously with Romania coming online, NATO is beginning construction on another base in Poland, which will complete the Eastern European segment of the shield in 2018.
Moscow has long objected to missile shield plans in Europe, insisting that the North Korean threat is just a pretext, and that the real aims of such systems are to neutralize Russia's nuclear objectives. China, meanwhile, considers the expansion of the US anti-missile umbrella in the Asia Pacific region as a threat to its own national security and the fragile balance of power in the region.
You can share this story on social media: