Burger bummer: Google CEO promises to 'drop everything' to address urgent emoji issue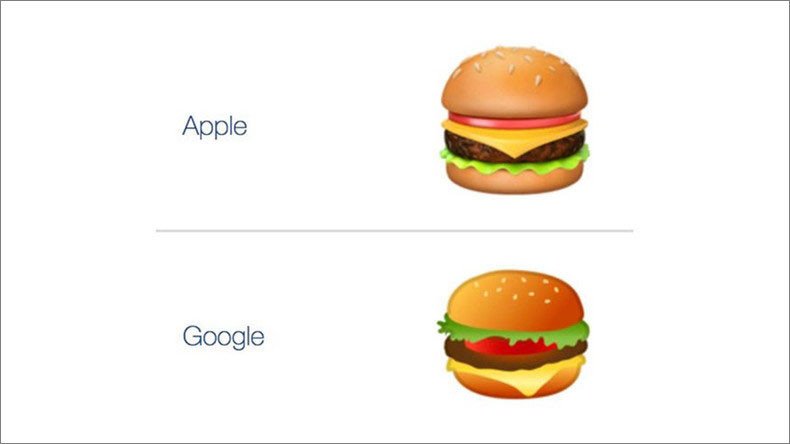 Google CEO Sundar Pichai has taken to Twitter to weigh in on a controversial emoji debate, promising to "drop everything" and address the issue first thing Monday.
Pichai was responding to a thread started by writer Thomas Baekdal who compared Google's burger emoji to Apple's version, and rightfully pointed out Google's fatal error of placing the cheese underneath the burger.
Baekdal had no idea just how widely the monumental oversight would escalate. Thousands of retweets and comments later, Pichai attempted to soothe the tense debate by promising to correct the mistake immediately.
Like anything on Twitter, the buck most certainly did not stop there. In fact the burger emoji debacle spread to include Facebook and Facebook Messenger's preposterous lack of continuity within the Zuckerberg family.
READ MORE: Patently creepy: Facebook's plan to 'read emotions' through your smartphone
While the controversial stacking of ingredients were at least in line, the stark difference in seed-topped buns is alarming.
Facebook messenger's David Marcus chimed in to correct Kaspar's sesame seed complaint: "These are poppy seeds. But our cheese is excellent" he wrote, while painfully ignoring the obvious.
READ MORE: Google's weapon of mass distraction: Ms. Pac-man hijacks map app for April Fool's day
The debate's 'ingredients' reached far and wide to include the order in which lettuce should also be added to the burger – the general consensus being, that both Google and Apple have that one wrong, and should look to Microsoft who insulted their lettuce with the tomato.
It also transpired that Samsung is the biggest monster of all, for actually placing their cheese on top of the lettuce.
What he said...
You can share this story on social media: