Alaska problems: Seal blocks airport runway while 'sunbathing' (PHOTO)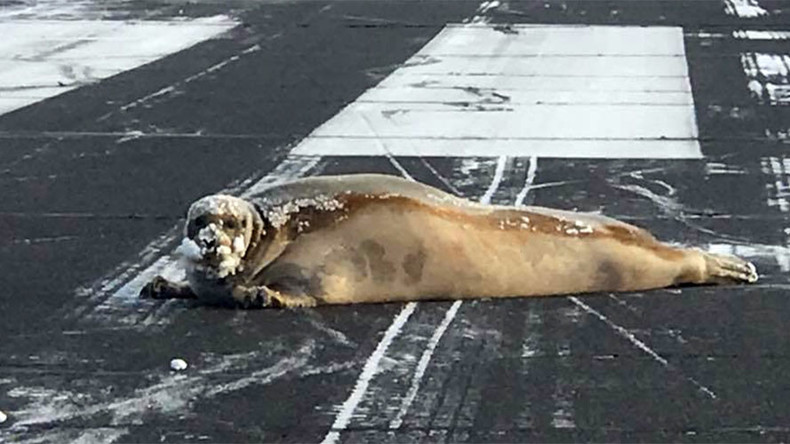 A bizarre flight hazard turned up on an Alaskan runway recently... in the form of a bearded seal.
The 450-pound animal was spotted on the tarmac the Wiley Post-Will Rogers Memorial Airport in Utqiagvik Monday, potentially posing a dangerous speed bump for incoming aircraft.
The airstrip is the furthest north in the US territories and is situated about a quarter of a mile from the Chukchi Sea.
Alaska's Transport Department said the large animal, often prey for polar bears, decided engage in "a little wintertime sunbathing" on the icy runway.
The seal was eventually escorted safely from harm's way and air traffic was then able to resume.
Meadow Bailey, a spokesperson for the Alaska Department of Transportation, told Alaska Dispatch News that animals like birds and caribou have caused issues near the airport before.
However, this is the first time anyone remembers a seal invasion on the runway.
"Our staff went to check it out and were surprised to discover that a seal was actually on the runway," she said. "They loaded the seal onto a sled and pulled it off the runway with a snowmachine."
The incident was jokingly referred by authorities on social media as "Alaska problems".
You can share this story on social media: