Spanish Senate approves direct rule in Catalonia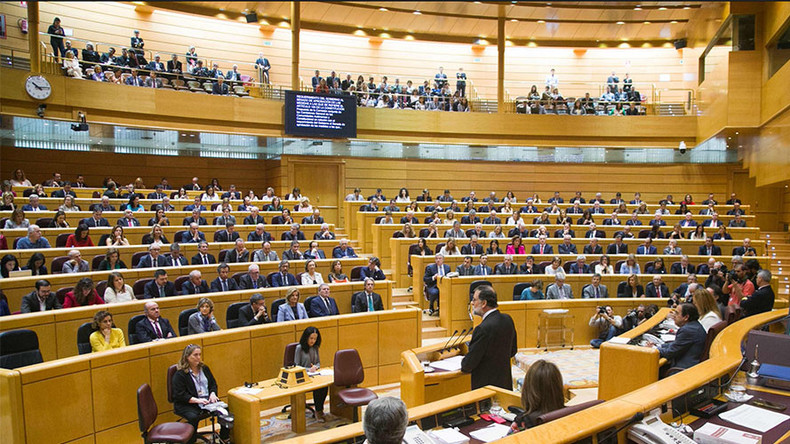 The Spanish Senate has approved invoking Constitutional Article 155, imposing direct Madrid rule on Catalonia. The move came minutes after the region's parliament declared independence from Spain.
READ MORE: Catalan parliament declares independence from Spain
The move will allow Spanish Prime Minister Mariano Rajoy and his cabinet to adopt measures to rule Catalonia directly. The measures might include dissolving the Catalan government, assuming direct control of the rogue region's police force and other steps to limit Barcelona's autonomy.
Never before used by Madrid, the controversial Article 155 of the Spanish Constitution is effectively the political "nuclear option" for Spain's central government.
The Spanish Senate's decision came within an hour of the Catalan parliament voting in favor of starting the "constituent process" to split from Madrid. PM Rajoy met Barcelona's decision with a vow to restore "legality" in Catalonia, urging all citizens to stay calm.
The ongoing events in Spain appear to be the latest and hottest flashpoint in weeks of political uncertainty following the Catalan October 1 independence referendum, deemed illegal and void by Madrid.
Following the results of the outlawed vote, President of Catalonia Carles Puigdemont announced the unilateral declaration of Catalan independence on October 10 only to suspend it, urging Madrid to engage in dialogue.
However, the central government dismissed the call, demanding Barcelona clarify its status, and threatening to enact Article 155 and suspend Catalan independence.