No evidence of Russian troops left behind in Belarus after Zapad 2017 drills – NATO chief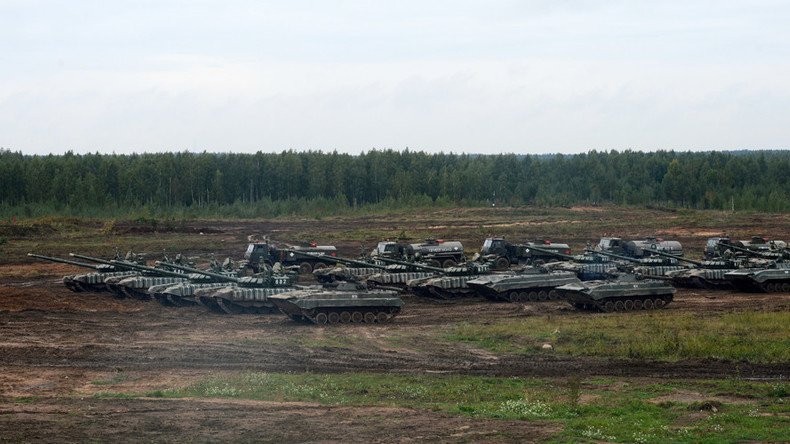 NATO has not found any evidence to back the allegations of Russia leaving troops behind in Belarus, following the strategic Zapad-2017 drills, its chief Jens Stoltenberg has said.
The NATO Secretary General delivered his assessment at a news conference following a meeting of the Russia-NATO council Thursday.
"We don't have any information indicating that Russia has left any troops behind in Belarus, and also Belarus clearly stated that Russian troops are not left behind. We're still of course assessing the exercise but so far we've not seen any evidence of Russian troops left behind," Stoltenberg said.
The joint September Russia-Belarus Zapad-2017 drills prompted massive hysteria in some NATO countries and its alliance partners months before the exercise even began. The accusations against Russia ranged from launching an attack on its neighbors under the guise of the drills to permanently leaving troops behind in Belarus.
As the exercises concluded and fears of an "invasion" evaporated, some officials, however, persisted in their narrative of Russia "leaving troops behind."
Ukraine's Chief of Staff, General Viktor Muzhenko, claimed late in September that he had "information" on Russian troops staying, as Moscow allegedly brought "significantly more" soldiers than was announced. The general, however, did not provide any details or proof to back his accusations.
Moscow has firmly denied the accusations, stating that all the troops had already returned home. While NATO did not find any signs of Russian soldiers allegedly left behind, Stoltenberg still accused Russia of exceeding the declared troop numbers and the scale of the drills.
"I think also what we have seen regarding the Zapad exercise underlines the importance of modernizing the Vienna Document because there are loopholes," he said.
The Vienna Document is an agreement between the Organization for Security and Co-operation in Europe (OSCE) members, calling on annual exchanges of military information, observation of military activities and other measures to reduce tensions between countries.
The accusations of "exceeding" the official figures have been voiced despite the Zapad-2017 drills demonstrating high levels of transparency. Apart from inviting some 90 foreign observers from 60 countries, Russia's Ministry of Defence convened regular briefings ahead of the drills.
NATO, while peddling concerns around Zapad-2017, held massive parallel military exercises in Sweden, which involved almost twice as many troops as the Russian-Belarus drills and became the largest military event Sweden hosted in 23 years.
Moscow has repeatedly criticized the alliance's military buildup on Russia's borders and has called NATO's actions provocative. Moscow added that it would respond accordingly, while stressing the defensive nature of Russia's military exercises within its own borders.
It also reiterated that it's open for dialogue with the western military bloc to address the most pressing issues and to avoid further tensions.
You can share this story on social media: