Tillerson: Assad family reign coming to end, only issue is how to bring it about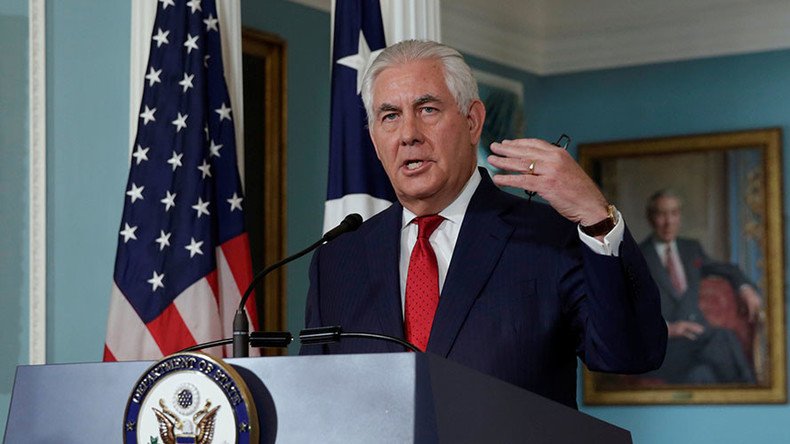 US Secretary of State Rex Tillerson says the "reign of the Assad family" in Syria is coming to an end, and the "only issue is how that can be brought about."
Tillerson's comments were made following a meeting with UN envoy Staffan de Mistura in Geneva. Tillerson called the meeting "fruitful."
"The United States wants a whole and unified Syria with no role for Bashar al-Assad in the government," Tillerson said, as quoted by Reuters. "The reign of the Assad family is coming to an end. The only issue is how that should that be brought about."
The secretary said he reaffirmed Washington's commitment to revive the Geneva peace process for Syria during a meeting with de Mistura.
He also said that "the only reason Syrian forces have been successful has been because of the air support they have received from Russia."
At the very beginning at his term as secretary of state, Tillerson said that the fate of Syrian President should "be decided by Syrian people," signaling late in March an apparent drift from the "Assad must go" narrative which prevailed during the Obama era.
Tillerson, however, changed his stance a week later in April, following the chemical attack in Idlib, which was attributed by Western powers, without any investigation, to the Syrian government.
"There is no doubt in our minds, and the information we have supports, that the Syrian regime under the leadership of Bashar al-Assad are responsible for this attack," Tillerson said back then.
The US stance then effectively reverted to the position voiced years ago by then-President Barack Obama back in 2011, who listed the ousting of Syria's president as one of the main preconditions for establishing peace in Syria.
"The transition to democracy in Syria has begun and it's time for Assad to get out of the way," Obama said in a statement when the war in Syria was only beginning. "For the sake of the Syrian people, the time has come for President Assad to step aside."
Moscow has repeatedly stated that the fate of President Assad can only be decided democratically by the Syrian people, following the defeat of the terrorist groups in Syria and peace talks between the government and the moderate opposition.
De Mistura announced via video conference to the UN Security Council, that he plans to resume UN mediated Syria peace talks on November 28 in Geneva. It will be the eighth round under his mediation since early 2016, according to the Washington Post.
The UN envoy said it was time to move on the political track to stop the conflict. "Now is the moment of truth," the Post reported him as saying. "The best way to proceed requires an intensified engagement among the key players in support of the Geneva parties."
"It would be a mistake by all of us if we think that time is on our side," de Mistura said.
He also said that he would work to move into "real negotiation on a constitution and UN-supervised elections," and explore the issue of terrorism and governance "in parallel" files.
Opposition delegations, which do not include UN-designated terrorist groups, or the Islamic State, have allegedly never spoken directly to Syrian government representatives under de Mistura's mediation.
To this date, Syria's civil war has left at least 400,000 people dead, and has driven more than 11 million people from their homes.
You can share this story on social media: