1 killed, 4 injured including MP in Kiev blast treated as 'terrorist act' (PHOTOS)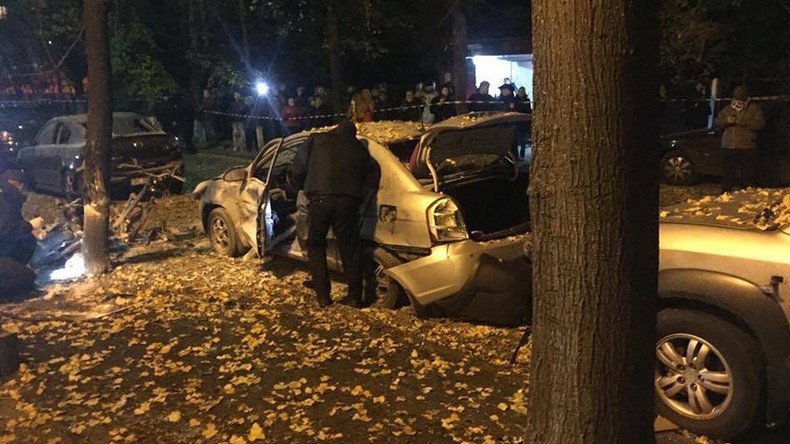 One man was killed and four others injured in a blast in central Kiev, according to Ukraine's Interior Ministry. An MP and his driver are among the victims of the explosion, which is being treated by investigators as an "act of terrorism."
Ukrainian MP Igor Mosiychuk was injured in the explosion near the TV Espresso HQ in Kiev, according to the TV station and the MP's press service. He, along with four other victims were rushed to hospital where the politician was immediately taken into surgery.
"The surgery was successfully completed. Doctors assess the condition of Igor Mosiychuk as having average severity," Mosiychuk's press service said on Facebook.
According to an interior ministry Facebook post, one of the five injured people died in an ambulance on the way to hospital.
The interior minister's advisor, Zoryan Shkiryak, said political analyst Vitaliy Byala was also injured in the blast.
"Both have now been taken to hospital quickly and are under the care of doctors," Shkiryak stated in a Facebook post, adding that investigators were working the scene.
The man who died in hospital was a bodyguard and aide to Mosiychuk, fellow MP Dmitri Linko said on Facebook. While the explosion was described by some officials as a "car blast," photos from the scene suggest that it was a motorcycle parked near the car which blew up.
Mosiychuk, a notorious Ukrainian politician with long standing and strong ties to the Ukrainian neo-Nazi movement has openly expressed his extreme-right views. While being a local MP in the Kiev region, he was suspected of conspiring to plant a bomb on a monument of Vladimir Lenin in 2011. The politician met the Maidan events of early 2014 in detention and was sentenced to 6 years in prison over the preparation of the terrorist act.
Following the Euromaidan demonstrations and subsequent government coup, Mosiychuk was released by the newly appointed Kiev officials and cleared of all charges as a "political prisoner." Upon his release, Mosiychuk took an active part in the unrest in eastern Ukraine, becoming a deputy commander of the notorious Azov paramilitary battalion. The militant group is well known for following Nazi ideology and has been condemned by the UN and Amnesty International.
Mosiychuk also threatened to dispatch neo-Nazi militants to Crimea in an effort to scupper the independence referendum there.
You can share this story on social media: