'Blueberry Hill' hitmaker Fats Domino dies aged 89 (TOP COVERS)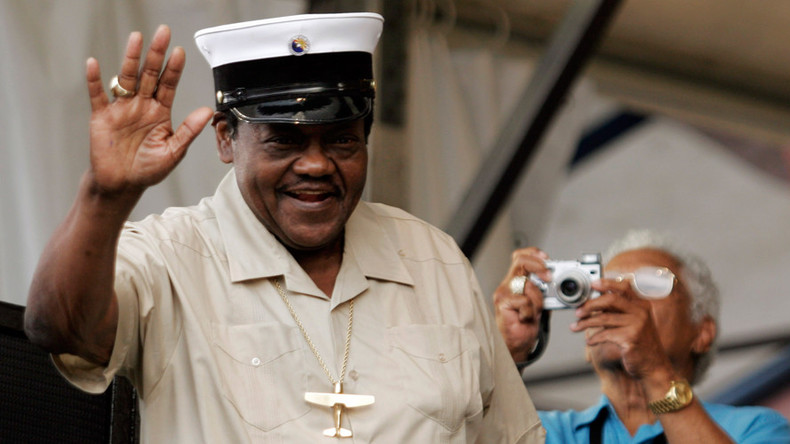 Legendary rock 'n' roll pioneer Antoine "Fats" Domino has died at home in his beloved New Orleans aged 89. The iconic singer-songwriter and 'Blueberry Hill' hitmaker passed away peacefully on Tuesday night surrounded by family.
Born in The Big Easy in 1928, Domino came from a large musical family. He was taught to the piano by his brother-in-law and began performing in music clubs and bars in the 1940s. Discovered in 1949, "Fats" released his debut album the following year.
After a string of top-40 hits, Domino released arguably his most famous song – a 1956 cover of 'Blueberry Hill'. That track has spawned countless covers, not least from rock legend Elvis Presley, for whom Domino was a huge influence, and Elton John.
As the world mourns the loss of the legendary singer, we take a look at the top five 'Blueberry Hill' covers – at least one may surprise you.
1) Louis Armstrong
Armstrong performed the tune with his 'All Stars' in Berlin, 1965.
2) Elton John
The British crooner sang it in 2007 as part of 'Goin' Home: A Tribute to Fats Domino'
3) Elvis Presley
Blueberry Hill was a favourite of the Fats Domino protege.
4) Led Zeppelin
Even the famous British rockers had a go.
5) Vladimir Putin
Perhaps most surprising is the Russian president's 2010 rendition. Whether he should give up the day job, you can decide.
You can share this story on social media: