Daredevil dangles from deckchair tied to helium balloons 8,000ft above Africa (VIDEOS)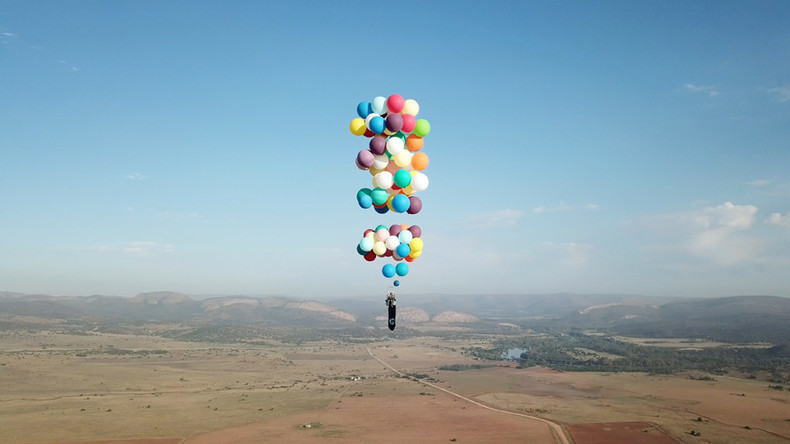 In a scene ripped straight out of the Pixar film 'Up' a man has flown 25km (16 miles) across South Africa on a camping chair powered by nothing but dozens of helium balloons.
British adventurer Tom Morgan soared to 8,000ft (2,438 meters) on his make-shift flying machine. Morgan is part of a group called The Adventurists which raise money for charity with wacky exploits all around the world.
The team spent two days inflating balloons for the flight and the trip had to endure a dramatic hiccup after bad weather forced them to relocate from Botswana to South Africa. They also lost more than 20 balloons which burst due to the wind.
"They only went and did it. Tom took to the skies of Africa after no small number of setbacks," The Adventurists said on their Facebook page after the successful flight.
They also hinted at plans to make the flight into a balloon race for like-minded thrillseekers.
"It was a fairly indescribable feeling, wafting across Africa on a cheap camping chair dangling from a load of balloons. Sort of peaceful and terrifying in equal measure," Morgan told the Telegraph. "I came here to see if we could organize the world's most ridiculous air race and after that flight, I'm more convinced than ever that we can."
The Adventurists aren't the first to use helium balloons to take flight. In 2015 a man strapped more than 100 balloons onto a lawn chair and flew over the Canadian city of Calgary as part of a stunt to promote his cleaning products business. He was fined CA$26,500 (US$19,820) for the reckless stunt.
READ MORE: Canadian fined Can$26,500 for flying balloon-powered lawn chair over city (VIDEOS)
Also in 2015, skydiver Erik Roner flew 8,000ft into the air while sitting on a lawn chair with 90 balloons attached.
Roner then used a shotgun to pop the balloons and skydived back to Earth. He died later that year when he struck a tree during a skydive to mark the opening of a celebrity golf tournament in California.