Kurds offer to 'freeze' independence referendum result & resolve conflict via talks with Baghdad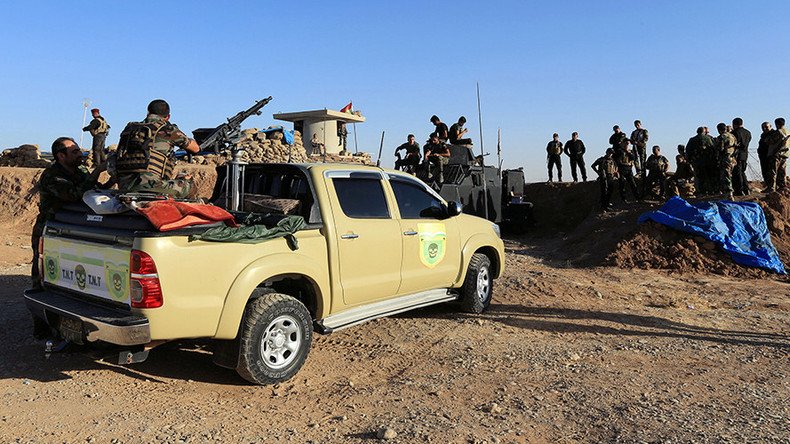 Kurdistan's regional government has proposed to "freeze" the outcome of last month's independence referendum and begin dialogue with Baghdad to prevent further violence as Iraqi forces continue to "secure" Kurdish-controlled territories.
The Kurdistan regional government based in Erbil offered to "freeze the outcome of the referendum that was held in Iraqi Kurdistan" on September 25, where more than 91 percent of voters supported the idea of independence.
The regional government also offered an "immediate cessation of fighting and every kind of military operations in the Kurdistan Region," as Iraqi government troops and pro-government militias continue to assert control on the oil-rich region after launching a military campaign earlier this month to seize territory from the Kurds.
In a matter of days, Baghdad took control over the city of Kirkuk and the surrounding regions and moved on to capture territory that the Kurds previously regained from Islamic State (IS, Daesh, formerly ISIS/ISIL) terrorists. While the Iraqi advance faced very little resistance, clashes with Peshmerga Kurdish forces have been widely reported in the region.
"The dangerous situation and tension that faces Iraq and Kurdistan forces all of us to live up to the historical responsibility and to not allow the situation to lead to further war and confrontation between the Iraqi forces and the Peshmerga," the Erbil government said in a statement early Wednesday, as quoted by Rudaw news.
Noting that "aggression and the confrontation" between Iraqi forces and the Peshmerga have resulted in "bloodshed" on both sides of the conflict, the authorities in Erbil noted that a "war between the two sides will not have a winner."
Instead, the Kurds proposed starting "an open dialogue" with the central government guided by the Iraqi constitution.
Baghdad has yet to respond to the Kurdish proposal.
The UN has already stated that it is ready to assist in the dialogue between the two governments "if requested."
"We are confident that the Government of Iraq and the Kurdistan Regional Government, just like they banded together to defeat Daesh, can work hand in hand to overcome their differences through dialogue and away from confrontation to resolve all outstanding issues in a manner that is consistent with the Constitution," Jan Kubis, the head of the UN's mission in Iraq said Tuesday.
Kubis suggested that both parties should start their reconciliation effort by establishing security in the disputed areas, while "respecting the integrity of the Green Line of 2003" before starting talks within the framework of the Iraqi constitution.
You can share this story on social media: