Tiger shark stalks stranded diver in stomach-churning game of cat & mouse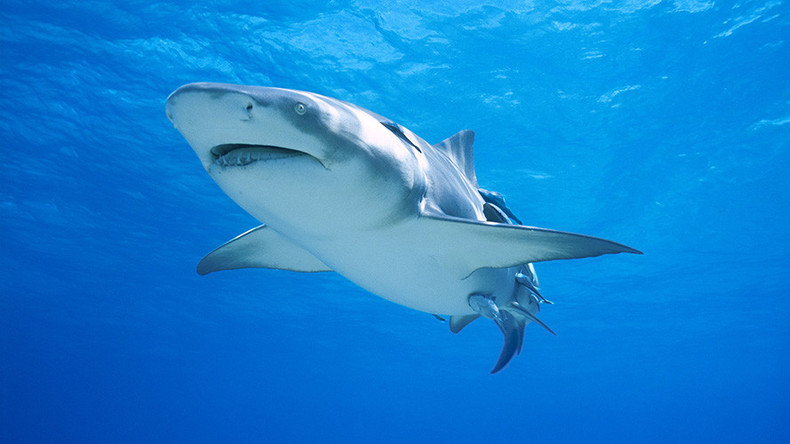 A British man diving off the coast of Western Australian has spoken of the moment he was chased by a tiger shark during his marathon 7.5km swim back to shore.
John Craig, 34, had been spearfishing in the aptly-named 'Shark Bay' – about 800km (500 miles) north of state capital Perth – when he lost sight of his boat and began splashing the water and screaming for help.
Craig said he believes that his splashing around caught the shark's attention, who then began to check him out to see if he could be "on the menu." After spending about two minutes fending the shark off with his speargun, Craig decided his best bet was to swim for it and so began his epic journey to the shore.
"It was easily the biggest tiger shark I've been in the water with and that's saying something having worked as a dive instructor for over 10 years," Craig said on Facebook. "I quickly turned and saw another large sandbar whaler circling behind me and it was at that point I decided to give up on getting to the boat and save myself."
Once he began swimming the shark followed, and Craig believed he wouldn't make it to shore alive.
"I have to admit that at this point I thought I was gone – 4 nautical miles out to sea with a huge tiger shark following me – I thought this was it, this is how I'm going to die."
Eventually the "curious" shark tired of the pursuit and disappeared out of Craig's sight as if to say "you're ok now I'll leave you alone." Although now at the shore, Craig's ordeal was not quite over.
With his legs aching from the epic swim, Craig had to walk for a further 30 minutes before he was spotted by a plane flying overhead. Afterwards, Craig said he felt "extremely lucky to be alive" and was "blown away by the Shark Bay community's efforts" to save him.