Rampaging wild boar sent to hog heaven after invading German bank (VIDEO)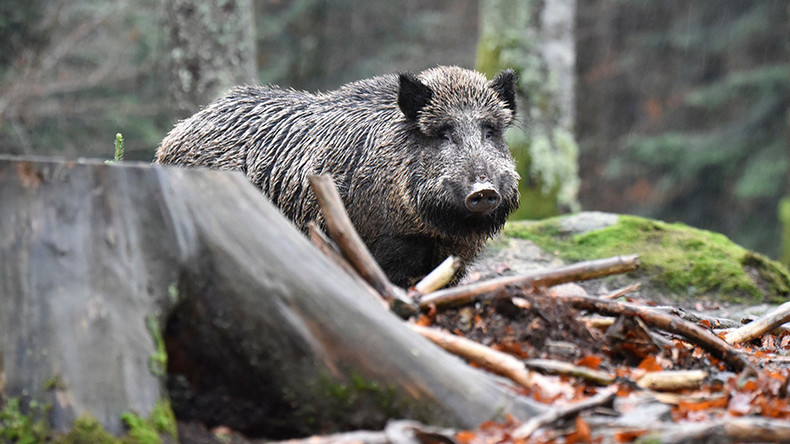 Four people have been injured after a wild boar managed to find its way into a German store and a bank. The wayward pig entered the businesses in the town of Heide, before it was shot dead by a marksman.
READ MORE: Sweden's wild boars have 'extremely high' radiation levels 31 years after Chernobyl
The animal was one of two boars that prompted an emergency response in the Schleswig-Holstein town on Friday morning, with police warning residents that two "aggressive" wild hogs were marauding through the streets.
CCTV footage reveals how one of the wild boars entered through the double doors of a downtown optician's store, before chasing employees inside.
The 70 kilogram boar was eventually corralled between the entrance of the neighboring Sparkasse bank and two cop cars and gunned down. The second boar escaped to the outskirts of town.
According to the Holstein police, four people sustained injuries inside the bank, while "substantial damage" was done to the store's interior. One man is believed to have lost the tip of a finger during the bizarre incident.
"The boar ran to a bank and attacked a passerby on [its] way there," a police statement read. "In the rooms of the saving banks, an employee suffered considerable injuries due to an attack. A total of four adults were taken to the Heider hospital."
Grisly images from the scene reveal that the rampaging boar was taken down by a rifle fitted with a telescopic sight.
Local mayor Ulf Stecher said a "prudent" decision was made to shoot the boar "without risk to others."
"The situation was really dangerous. In fact, it is inconceivable that four people have been injured in this way. I hope that all four will be better soon."
"The police, rescue and fire brigade forces have also done a very good job," he added.