Air Berlin plane blocked from take-off over unpaid bills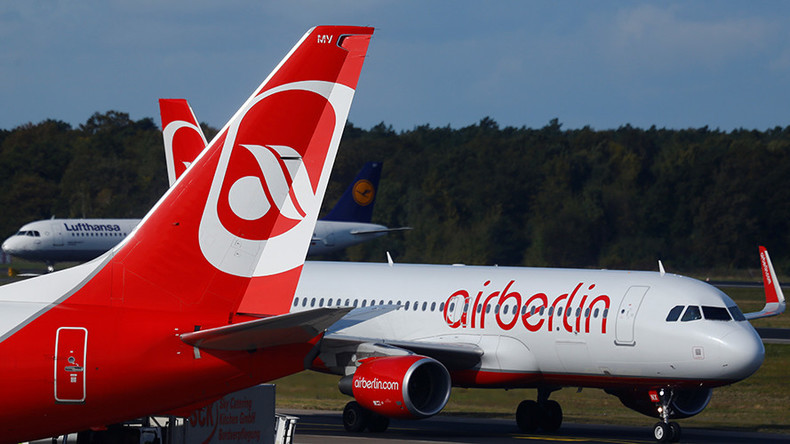 An Air Berlin flight was grounded in Reykjavik over the airline's unpaid airport charges. The Icelandic aviation authority would not allow the plane to take off without paying its bills.
Cash-strapped Air Berlin, one of Germany's largest airlines, filed for insolvency in August after shareholder Etihad announced it would no longer be providing financial support. A €210 million ($247 million) bid by Lufthansa to buy the airline was accepted last week.
Iceland's airport operator, Isavia, seized the Air Berlin Airbus A320 before take-off. It had been due to travel to Dusseldorf before the unexpected intervention.
READ MORE: Investigation launched into Air Berlin pilot's 'farewell flyover' (VIDEO)
Isavia confirmed in a statement that an Air Berlin flight from Keflavik International Airport was grounded to guarantee the payment of the outstanding administrative fees.
"Air Berlin filed a petition of the opening of insolvency proceedings in August and the unpaid airport charges occurred prior the insolvency period," Isavia stated.
"The action will inevitably affect the passengers who had booked a flight with Air Berlin, but this action is considered to be the final resource to ensure payment for services already provided."
Air Berlin has hit back at the Icelandic airport's management, describing the measures as "unlawful."
"We have told Keflavik airport repeatedly that any outstanding demands of payment relating to the time before Aug. 15 must be registered on the insolvency table due to insolvency law," the airline said. "We have called on Keflavik airport to cease its unlawful actions immediately."
Earlier this month, Air Berlin cancelled its long-haul flight operations while the company undergoes a "restructuring" process aided by the German government.
The end to the service was marked by a mid-air "lap of honor" above Dusseldorf Airport on Monday. The incident, which saw an Air Berlin passenger jet fly around the airport's control tower, is being investigated by the German Aviation Authority.