'Ecological Armageddon': Plummeting insect populations could ravage life on Earth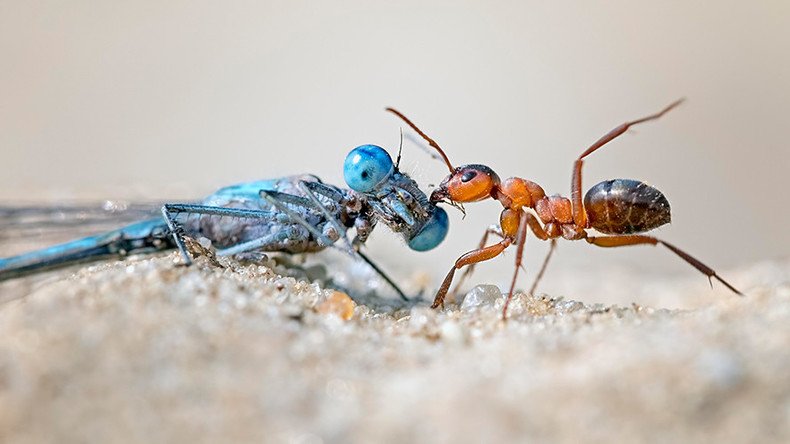 The stark decline in insect populations has placed the world on a path to "ecological Armageddon," according to a study.
Researchers from Raboud University in the Netherlands made the discovery following a decades-long study of nature reserves across Germany.
Since 1989, the team has been collecting insect samples across 63 sites using mesh tents known as malaise traps. After measuring each year's samples by weight, scientists found that the average fell by more than 75 percent over the 27-year period. During the summer months, the fall was measured at around 82 percent.
Insects are essential for life on Earth as they act as pollinators and prey for other species. Increased urbanization, habitat loss and pesticide use are being blamed for the declining population.
Caspar Hallmann, a member of the research team at Radboud, described the figures as "very alarming."
"All these areas are protected and most of them are managed nature reserves. Yet, this dramatic decline has occurred," Hallmann said in a statement.
In recent years, biologists have begun to cite the 'windshield phenomenon' as a measure of the decline, noting that they are no longer scraping splattered insects from their car windshields after lengthy drives.
Another member of the Raboud team, Professor David Goulson of Sussex University in the UK, told the Guardian that he believes the phenomenon is a symptom of the vanishing population.
"I think that is real," said Goulson. "I drove right across France and back this summer – just when you'd expect your windscreen to be splattered all over – and I literally never had to stop to clean the windscreen."
Plummeting insect numbers have been highlighted at various times throughout the last decade.
Numbers of grassland butterflies have plummeted across Europe over the last two decades, according to research published by the European Environment Agency in 2013.
According to a Center for Biological Diversity report published in March this year, more than 700 North American bee species are declining due to habitat loss and pesticide use.
A 2015 report from a United Nations group found that populations are declining for more than 35 percent of bee species, while 9 percent of butterfly and bee populations face extinction.
You can share this story on social media: