2 children injured in Afghanistan as US troops allegedly 'open fire' on them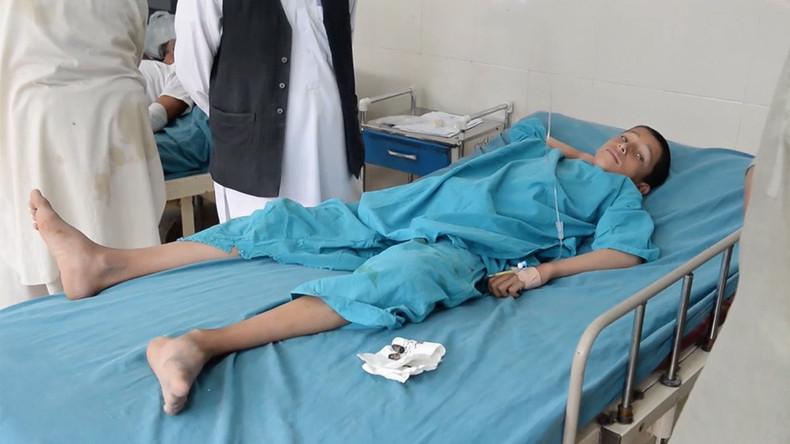 US forces in Afghanistan allegedly shot at and injured two children in eastern Afghanistan after their classmates threw stones at US military vehicles.
Two of the eight pupils at a school on the outskirts of the city of Jalalabad in the Nangarhar Province were injured in the alleged shooting, its head teacher told RT's Ruptly news agency.
Saying that the incident happened at 7:00 Monday morning, the man explained that he "was standing at the main gate of the school where the pupils enter."
READ MORE: US strikes & ISIS rage: Displaced Afghan families share stories of suffering
"The Americans were patrolling the road. Then I heard firing sounds. Some of the pupils were carrying two injured schoolboys," the man claimed.
The two injured boys, who have been treated by doctors at a local hospital, also shared their account of the events with Ruptly.
"I wanted to go to school. When I entered the school, some of our classmates took the stones and threw them at the US vehicles. Then they [US troops] opened fire. I got injured in my leg. My friend also got injured," one of the boys said from his hospital bed, with bullets visible next to him.
The children were saying that "the US should get out of our country," the boy added.
Another child who received a leg injury claimed he personally had not thrown stones at the US convoy.
Saying that the stone-throwing boys "don't know better because they are children," the father of one injured boy pointed out that the US troops should have known better than to shoot at the boys.
"They have come here to build our country. This is not good that they open fire on children and they [children] get injured," the man told Ruptly.
The head teacher said the school condemns the incident and called for the government to "inquire about this case." Ruptly has contacted the NATO-led Resolute Support Mission in Afghanistan, but so far received no response.
Recently, Washington announced it is increasing its military contingent in the Middle Eastern country, potentially bringing the total number of NATO troops in Afghanistan to over 17,000. Despite regular civilian protests and international concern over the US' longest war, the Pentagon said this month that US soldiers would stay in Afghanistan and continue the military operation indefinitely.