Raging wildfires kill 2, trigger panic & evacuations in Galicia, Spain (PHOTOS, VIDEOS)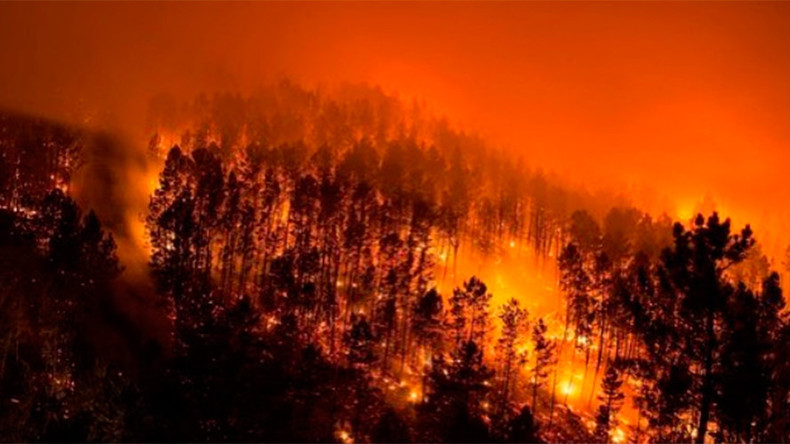 Two people have died in the latest wildfires to hit Galicia, Spain. The blazes have sparked panic, with people rushing to evacuate their homes.
Two bodies were found inside a burned-out vehicle in Nigrán in Pontevedra on Sunday, El Pais reports. A university in Vigo has been evacuated, and the City Council has asked people to leave their homes. The Civil Guard and National Police have begun moving people from neighboring areas.
Firefighters face a mounting challenge with strong and changing winds further carrying the flames. Hurricane Ophelia's approach has resulted in increased winds in the region.
There have been 80 fires in the area since Saturday, and 17 remain active. Thirteen of those fires were Level 2 alerts, meaning they pose a risk to the population.
La Voz de Galicia reports more than 4,000 hectares have been destroyed as a result of the weekend's blazes.
"We are in a very difficult situation," Galician President Alberto Núñez Feijoo said. "We are in a critical situation."
Feijoo warned people against starting trips on country roads and urged, "Don't try to protect the house, try to protect the people."
A number of roads have been cut off as a result of the flames, and the Civil Guard asked drivers to turn around as the Folgoso tunnel was inaccessible, La Voz de Galicia reports.
Neighboring Portugal has also been battling wildfires, with high temperatures making the fire spread more quickly.
You can share this story on social media: