Astronomers spot ring around pebble-shaped dwarf planet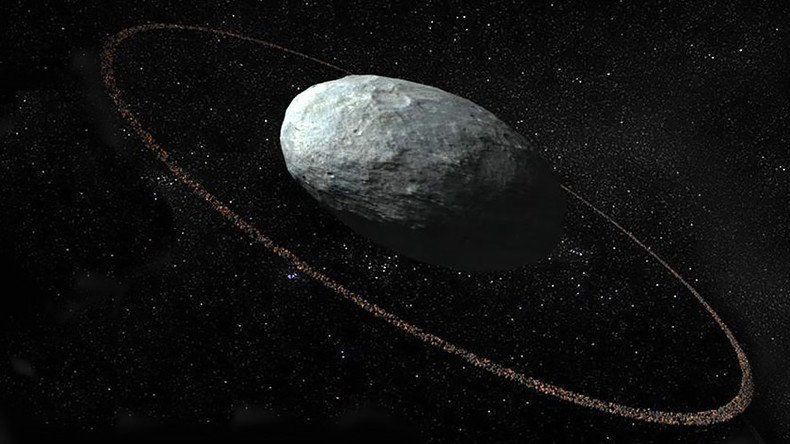 A small body at the edge of our solar system has brought into question the notion that, when it comes to planets, only giants can have rings.
An international team of scientists made the discovery after being treated to a clear view of the dwarf planet Haumea as it crossed between Earth and a distant star in January this year.
Haumea, a pebble-shaped rock named after the Hawaiian goddess of childbirth, is one of the largest space rocks in the Kuiper belt, the disc-shaped region of icy bodies extending from the orbit of Neptune.
READ MORE: 100ft asteroid to careen past Earth in 'close' flyby – NASA
As the dwarf planet crossed in front of the star, scientists from the Andalucia Institute of Astrophysics (IAA) in Granada, Spain, coordinated with 10 other labs to examine the data collected by their 12 telescopes.
"We started to see something weird in the light curve," the study's co-author Pablo Santos Sanz told Space.com, recalling how the light dimmed before and after Haumea passed in front of the star, as if something else was obscuring it.
Further research revealed that the dimming was actually evidence of a 43-mile-wide (70 km) ring of debris encircling Haumea at a distance of around 620 miles (1,000 km) from the surface.
Other planets in our solar system which have a ring include Jupiter, Saturn, Uranus and Neptune. The phenomenon is said to be evidence of a collision in the relatively recent history of the planet in question, which is to say the last one billion years.
IAA researcher Dr Jose Ortiz explained that the study, published in the journal Nature, was started after the discovery of a ring around Chariklo, a rock in the Centaurs region of space, in 2014. The Centaurs is an area of space between Neptune and Jupiter.
"We didn't expect to find a ring around Haumea, but we were not too surprised either," Dr Ortiz said.
READ MORE: Lurking alien spaceship not causing Tabby's Star mysterious light – study
The origins of the ring remain a mystery to scientists, but for some the discovery is yet another sign of the solar system's unpredictability.
"Our discovery proves that there is a lot more diversity and imagination in our solar system than we had thought," study co-author Bruno Sicardy of the Paris Observatory told AFP.
You can share this story on social media: