Multiple people injured in shooting at Swedish market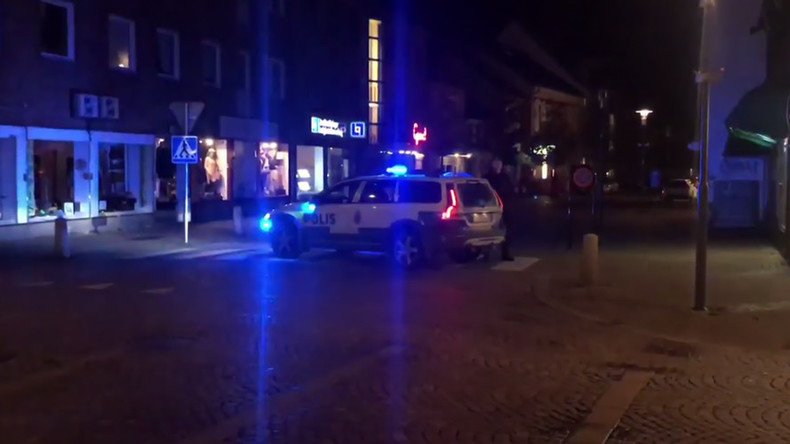 At least four have been seriously injured after at least one gunman reportedly opened fire at a market in Trelleborg, Sweden, according to local authorities, who launched a "major police operation" in response to the incident.
At least four people have been taken to hospital, local media report. The police initially said that the four victims suffered gunshot wounds, but have later clarified their statement.
"At least two have [suffered] shot injuries, but some of them have other types of injuries," police spokesman Fredrik Bratt told reported, specifying that the types of wounds have not been confirmed yet. The four people injured are men, according to the police.
The area of the incident is a central neighborhood full of multiple occupancy houses and shops. There is also a church and a number of open green spaces.
"We have received several reports of a shooting in Trelleborg," the police spokesman had explained earlier, according to British daily the Express. "When we arrived at the scene, several people with gunshot injuries were found."
"There were many shots. We saw someone running outside," an eyewitness told the Swedish publication Expressen.
"I was at home at the computer when I heard a loud bang," Aron Tydén – another person in the area – told the publication, claiming that he heard people running.
Another eyewitness heard at least six shots from his apartment, saying that the shooting took place on a lawn near the church of Saint Nicholas.
"I saw a lot of people running... It was chaotic. Immediately after that the police appeared, and the ambulance," the witness was quoted as saying by Sweden's GP publication.
Police have cordoned off the area, allowing ambulances through. The victims were reportedly rushed to hospitals in Malmö and Lund. Forensics team and a canine unit have also been dispatched to the scene of the incident.
Police have so far questioned five people in connection with the shooting. Authorities also detained at least one person and conducted a search in one apartment.
You can share this story on social media: