US-led coalition 'annihilates Syrian people, protects ISIS' – Syrian FM to RT
Published time: 11 Oct, 2017 16:45
Edited time: 11 Oct, 2017 17:21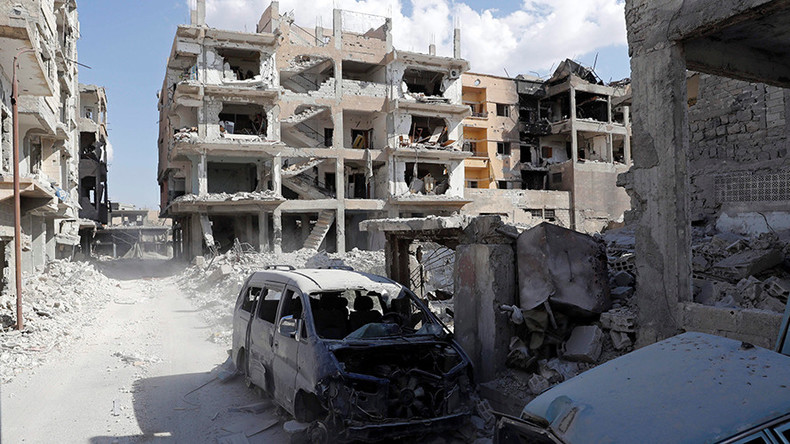 Syrian Foreign Minister Walid Muallem has reiterated Damascus' calls to "dissolve" the international coalition led by Washington in Syria, accusing the alliance of not fighting terrorists, but rather destroying the country and its people.
"This coalition was created to annihilate ISIS [Islamic State/IS], but it annihilates the Syrian people and not ISIS," Muallem told RT in Sochi, where the minister held talks with his Russian counterpart, Sergey Lavrov.
The Syrian diplomat said that, contrary to its stated mission, the US-led alliance "protects ISIS," and that he saw no sense in so many countries being members of the coalition. Muallem also branded the 62-state alliance "froth," insisting that "it should cease to exist."
"This international coalition has been committing crimes against the Syrian people. In the last two months, thousands of Syrian civilians, women and children mainly, have become the victims of these crimes," he said.
During his talks with the Russian foreign minister, Muallem said Damascus would "insist on dissolution of the coalition in the strongest possible terms."
Washington uses the anti-terrorist alliance as a "cover to destroy Syria" and its economic infrastructure in particular, he told Lavrov, adding that the US wants the war in Syria "to last as long as possible."
The minister also lashed out at Ankara, claiming "there is a close connection" between Turkey and terrorist groups in Syria.
"Turkey trains terrorists, arms them and facilitates their infiltration into the territory of Syria. This is why I can state that Turkey's presence in Syria is illegal," Muallem told RT.
READ MORE: US-backed forces on collision course with Syrian Army in 'race for Deir ez-Zor oilfields'
The Syrian Army has been fighting Islamic State, Al-Nusra Front and other terrorist groups on its territory for years. Moscow joined Damascus' efforts in September 2015, with Russia's anti-terrorist campaign launched at the request of the Syrian government.
Moscow also initiated the Astana peace talks in Kazakhstan's capital, with the participation of Iran and Turkey. Several rounds of negotiations have resulted in the establishment of so-called de-escalation zones in Syria.
Meanwhile, the US-led campaign in the region has long been dubbed "illegitimate" by Damascus. Demanding that the alliance's strikes in Syria stop, the government has sent official letters to the United Nations. The US and its allies must pay for the destruction of Syrian infrastructure and bear legal responsibility for "illegitimately" bombing civilian targets, Damascus says.
On some occasions, the American forces in Syria, which are also backing a number of militia groups in the country, have come in direct military contact with Syrian forces. Earlier this year, the US military attacked troops loyal to Damascus for allegedly violating the borders of US-controlled zones.
In August, Syrian President Bashar Assad said that no form of constructive dialogue with the West was possible, explaining that any rhetoric which claims that Western countries are fighting terrorism does not necessarily support the reality on the ground.