Madrid approves of Russia's stance on Catalonia, Spanish ambassador tells RT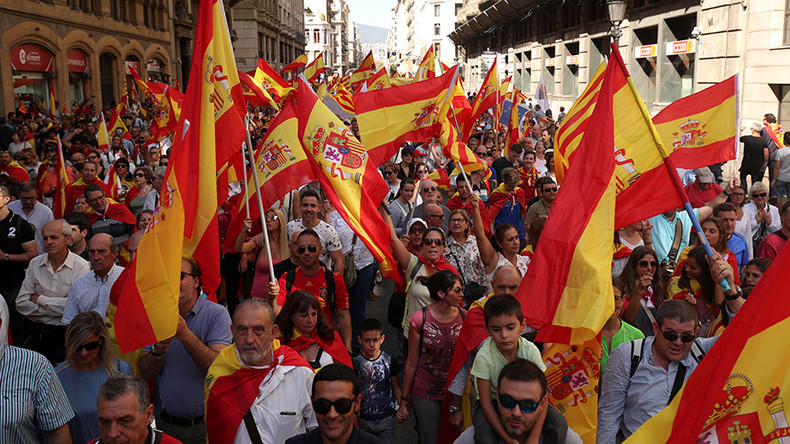 Spain has been content with Russia's stance on the crisis over Catalonia, Ambassador Ignacio Ibanez Rubio told RT after reports in the media alleged Moscow had been pulling strings to ensure a 'yes' to a secession.
After the referendum in Catalonia paved way to the region's authorities signing "a declaration of independence," reports started emerging in media pointing finger at Russia. El Pais, the Washington Times and Politico all issued publications alleging that an army of Russian bots had perfected their techniques of online influence and thus ensured the October 1 vote went down the path of separation.
READ MORE: Catalonia signs 'declaration of independence,' temporarily suspends it for dialogue with Madrid
RT Spanish asked Ignacio Ibanez Rubio, Spain's ambassador to Russia, on these meddling allegations and if Spain's Defense Ministry had indeed confirmed Russia's involvement with the independence movement to its NATO partners.
"On the contrary, Spain endorses Russia's official stance. From the very beginning Russia has recognized that this is an internal affair of our country," Ibanez said, adding the two nations enjoy "great relations."
Ibanez stressed that Russia has consistently voiced its respect for Spain's territorial integrity in many official statements.
"So we are very pleased with Russia's stand on the crisis in Catalonia," he said.
On Wednesday, the Russian Foreign Ministry announced its hopes the Catalonia issue will be resolved "through dialogue, within Spanish law," while "rights and freedoms of all the citizens will be respected."
The ministry also regards the current events in Catalonia as a domestic matter for Madrid, the statement said.
Earlier, Russian Ambassador to Spain Yury Korchagin responded to the reports on Russia's suspected role in the referendum, saying the embassy was particularly surprised by the publication in El Pais.
"It surprised us a lot. The publication was a chaotic mixture of everything: WikiLeaks, accusations of Russia interfering with some other countries, bots, some Catalan politicians we've never heard of. All of this is such a total mess 'the hand of Moscow' would never care to touch," he said referring to a spectrum of claims about Russian meddling in Catalonia, Brexit, the US presidential election and German elections, described in the piece.
Korchagin added that Spanish society has developed immunity to "all sorts of politicized and ideological fabrications."