Rallies in support of Navalny held in several Russian cities
Published time: 7 Oct, 2017 16:50
Edited time: 21 Feb, 2018 14:50
Protests in support of prominent opposition activist Aleksey Navalny, who was recently placed under administrative arrest over repeated violations of the law on public assemblies, have been held in a number of Russian cities.
The rallies were staged on Saturday after Navalny urged his supporters to join a national protest – a call that led to him being placed under administrative arrest. The demonstrators demanded that the authorities free Navalny and allow him to run for president in the forthcoming 2018 elections.
Navalny was found guilty of embezzlement in 2014 and given a suspended sentence. This makes him ineligible under Russian law to register as a candidate in presidential elections.
READ MORE: Moscow court orders 20-day detention for Navalny for organizing several unsanctioned rallies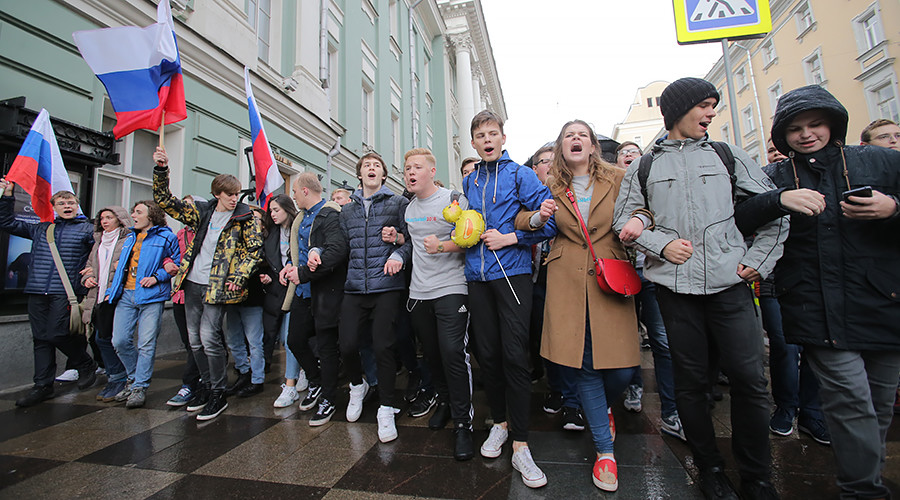 The organizers claimed the demonstration would take place in some 80 cities across Russia. In many cases, the gatherings either received the approval of local authorities, which is a requirement under Russian law, or took place in parks where such approval is not necessary.
In a few cities, including Moscow and St. Petersburg, however, the rallies were not authorized. Despite that, police said most of them ended peacefully without major incident.
In Moscow, about 700 people gathered for an unsanctioned rally in the city center, police said, and marched to the State Duma, the lower house of parliament. Police repeatedly called on participants to end their protest, RIA news agency reports, but made no attempt to break up the crowd by force.
The demonstrators then returned to Pushkin Square and dispersed peacefully, RIA news agency reports.
Similar rallies were held in St. Petersburg, Vladimir, Samara and Nizhniy Novgorod, as well as in the Siberian cities of Yakutsk, Irkustsk and Novosibirsk.
Most of the rallies were attended by several dozen protesters. In Saratov, about 100 people joined the protest.
Almost 2,000 people took part in the unsanctioned march in St. Petersburg, according to the local police department. Police also said that 38 protesters were detained over repeated disturbance of public order in defiance of police warnings. All those detained were subsequently released, with no charges.
Police also detained two members of Navalny's campaign team in St. Petersburg for organizing unauthorized public events. They were found guilty of violating the law and disturbing public order by organizing unauthorized protests, and were each ordered to pay a fine of 20,000 rubles ($350), a local court's press service said.