Draconid meteor shower to provide intergalactic pyrotechnics this weekend
Published time: 7 Oct, 2017 16:00
Edited time: 8 Oct, 2017 08:33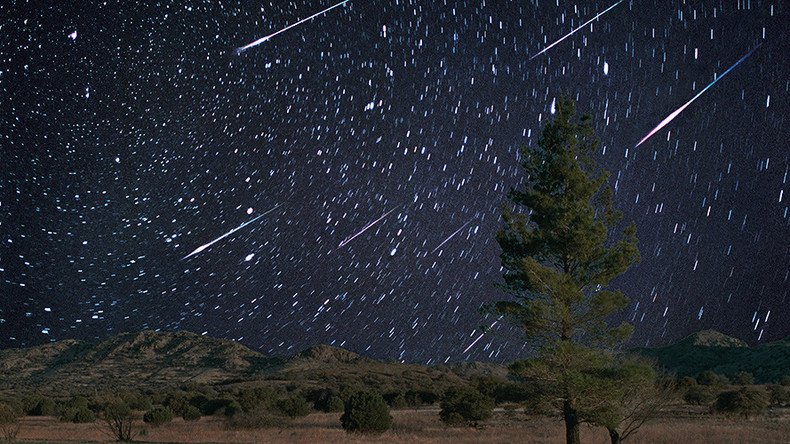 The Draconid meteor shower, which takes place when the Earth hurtles through the debris field in the wake of Comet 21P/Giacobini-Zinner, is set to peak this weekend and may treat lucky, and patient, stargazers to a beautiful natural fireworks display.
More often than not, the Draconids are quite tame, but every few years, stargazers are treated to a fiery maelstrom. For example, at its peak in 2011, the shower rained down up to 600 meteors per hour which were visible in the night sky, despite a bright moon, Science Alert reports.
However, this year may not quite live up to the hype for two reasons: we won't pass that close to the debris field and an almost full moon will dramatically reduce visibility.
The moon is currently in its waning gibbous phase, meaning it rises early in the evening, after a spectacular Harvest Moon earlier this week.
To make matters worse, the shower won't be visible to all and is best viewed from the higher latitudes in the northern hemisphere, particularly the upper points in the northern US, Canada, Europe, and northern Asia.
For best results, however, look skyward right after sundown and aim for the Draco constellation, the meteor shower's "radiant," or the point from which the meteors appear to spread out.
"Just plan to spend an hour or more under a dark and open sky, lying down and with your feet pointing northward," Earth Sky suggests.
However, meteor showers are notoriously contrarian and defy predictions regularly, so the best option may be to head outside and see for yourself this weekend.