Knife-wielding man reportedly shouting 'Allahu Akbar' sows panic on train in Belgium before arrest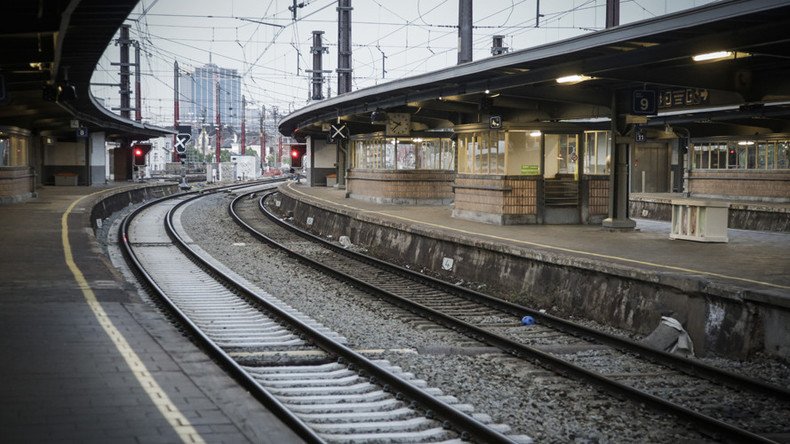 A knife-wielding man threatening to kill passengers caused panic on a train in the Belgian capital, Brussels earlier this week, local media reported on Friday, citing officials.
The man shouted "Allahu Akbar" ('God is great' in Arabic) and "we're going to kill all of you," causing panic among the passengers, Belgian media reports.
He was also reportedly screaming that he wanted to "finish the work started by the Nazis."
The man was arrested by police when he departed the train at the Brussels-South railway station.
READ MORE: Soldiers attacked by knife-wielding man in Brussels, incident treated as 'terrorist act'
He was carrying a 28-centimeter knife on his belt, RTL reported. There were no reports of deaths or injuries on the train as result of the incident.
The perpetrator was described as a man in his 40s, known to have a criminal record, including drug-related abuses. The man is now being held in custody on suspicion of links to a terrorist organization.
Belgium and other European nations have been recently gripped by a wave of stabbing attacks, carried out by radicalized individuals.
In late August, a knife-wielding man was shot dead in the center of Brussels after attacking a group of soldiers, injuring two. According to reports, the Belgian authorities have opened over 189 terrorism cases since the start of 2017, with the focus on "homegrown" extremists.
Belgium suffered by one of the worst terrorist attacks in Europe in recent years when suicide bombings at Brussels Airport and the city's metro killed 32 people and left scores more injured in March 2016.
You can share this story on social media: