Great ball of fire! Stunning VIDEOS capture huge meteor in night sky over China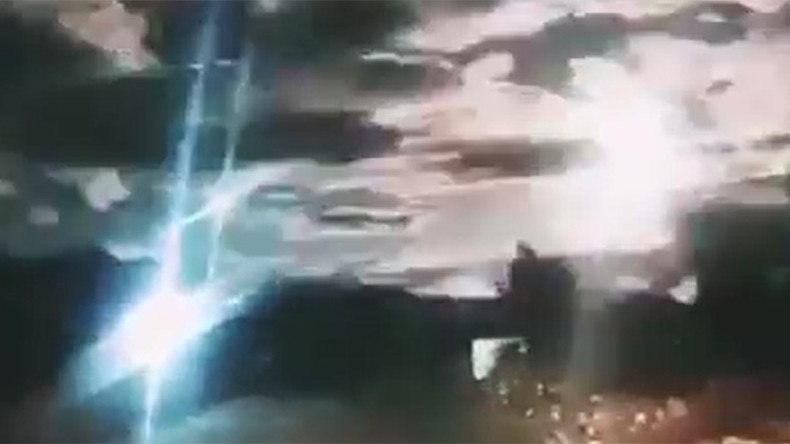 A fireball has soared over Shangri-La City in China's Yunnan province, dazzling locals who were watching the skies for a full moon but instead were treated to a "shooting star." Witnesses reported that a loud bang and mild shaking followed the flash.
The fireball traveled the skies for a few seconds before exploding, but it was enough for residents of Shangri-La City to capture the mesmerizing display on video. China's social networks were inundated with clips of the fireball zooming through the clouds.
NASA, which tracks all fireball events worldwide, registered it entering the area at 12:07 on October 4 UTC (20:07 on October 4 local time). The object was heading at a speed of 14.6 km/s and was observed by NASA at an altitude of 37km (23 miles), some 164km northwest of the city.
The spectacular meteor coincided with the celebration of the Mid-Autumn festival, which is a traditional Chinese festival marked on the 15th day of the 8th month of the lunar calendar, with its main symbol being a full moon.
An eyewitness, cited by the Daily Mail, said that the meteorite fell in a village some 40 kilometers (25 miles) from the city. A resident of a nearby village told Chinese television that he heard a bang and felt mild tremors. The impact was reportedly strong enough to frighten some of the livestock.
There have been no reports of casualties, but the local Kunming Daily newspaper reported that some tourists visiting the area saw buildings shaking.
"This is a very big rock from space, and somewhere in China, there are fresh meteorites on the ground waiting to be found," said David Finlay, of Australian Meteor Reports, as cited by The Watchers.
You can share this story on social media: