Watch astronauts repair ISS robot arm in daring spacewalk (LIVE)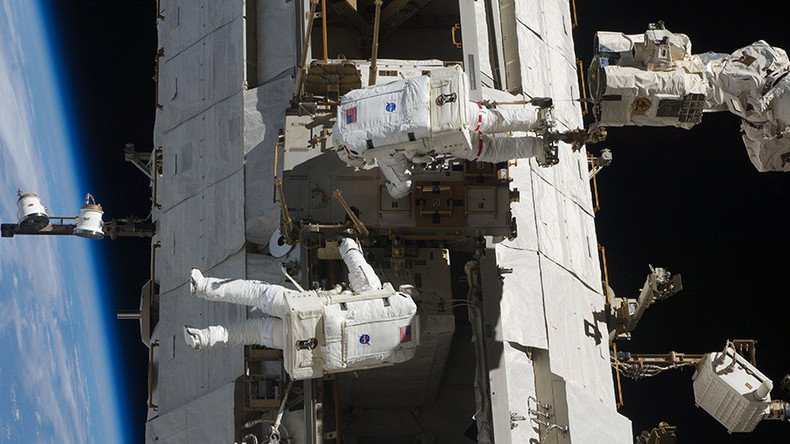 It's repair work – but out of this world. NASA astronauts will step outside the International Space Station (ISS) on Thursday to mend the orbiting science lab's robotic arm.
Expedition 53 Commander Randy 'Komrade' Bresnik and ISS flight engineer Mark Vande will be replacing a motor that malfunctioned on the device used to move supplies and undock spacecraft.
The large grappling mechanism, known as the Canadarm2, recently experienced an issue with one of its motorized latches.
READ MORE: Happy 60th birthday, Sputnik! How USSR launched mankind's first satellite (PHOTO, VIDEO)
According to NASA, the issue has so far not had any impact on operations at the space station. However, the arm, which was attached to the station in 2001, is regarded as an invaluable piece of kit.
A 3D animation of the work schedule shows how the astronauts are expected to begin the spacewalk from the Quest airlock. From there they will clamber along the ISS frame towards the Canadarm2.
Narrated 3D animation shows activities taking place during Thursday's spacewalk to install new latching end effector on Canadarm2. pic.twitter.com/4gr3mb2uGP

— Intl. Space Station (@Space_Station) October 4, 2017
ESA astronaut Paolo Nespoli will provide support by helping the duo don their protective space suits. He will also be there to assist with the re-entry into the ISS.
READ MORE: Spacewalk 360: RT releases first-ever panoramic video of man in outer space (VIDEO)
Thursday's spacewalk is the first of three planned for October.
The following spacewalks will see astronauts reconfigure a latch on a high-pressure gas tank and carry out work on a high definition camera located on the truss of the orbiting craft.
The six-hour spacewalk is scheduled to begin at around 8am EDT (12:00 GMT) and is being streamed live on NASA TV.
You can share this story on social media: