Catalonia vows to go to intl. courts, calls on EU sanctions against Spain for referendum violence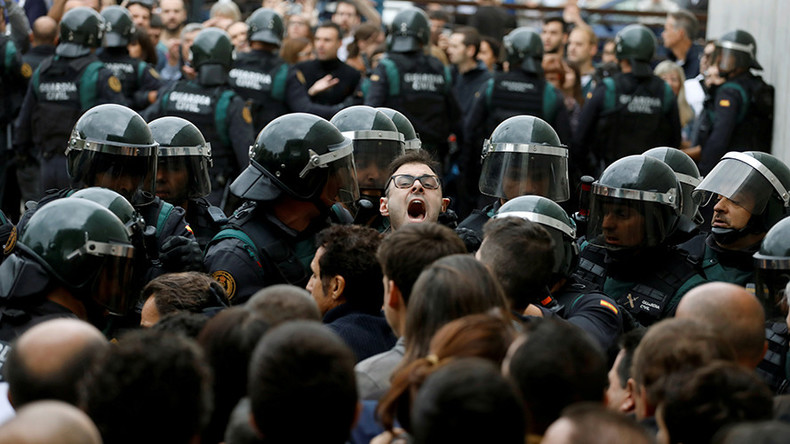 Catalan ministers have announced they are pursuing international justice following the Spanish government's crackdown on voters in the Catalonia independence referendum.
Announcing a two pronged response strategy, officials added that a process to institute anti-Madrid sanctions in the EU is already underway.
"We will initiate formalities to activate the mechanisms of sanctions... We think that the actions of the Spanish state that the whole world is witnessing, put the image of the EU as a guarantor of democracy and human rights at risk," Catalan Minister of Foreign Affairs, Raul Romeva told a news conference in Barcelona Sunday.
Catalan officials have initiated contact with various EU institutions, including the European Parliament and the European Commission, along with representatives of EU member states "in order to launch measures to penalize and control" Madrid, he added.
The minister referred to the EU's Article 7, a law that can suspend a member state's voting rights and impose sanctions on a country believed to have fundamentally violated human rights.
Having accused Spanish authorities of such violations, another Catalan government official, Jordi Turull told reporters that Madrid should be held accountable in international courts for its actions during the poll.
"We've talked about rubber bullets [used by Spanish police]. Now we've also learned about tear gas. What police is doing is real barbarity, a true international scandal," Turull thundered.
Catalan authorities announced that hundreds were injured during the plebiscite, deemed illegal by Madrid. Human Rights Watch (HRW) has also joined in the condemnation of Spanish police, calling on them to "refrain from excessive use of force."
You can share this story on social media: