Tear gas fired as anti-G7 protesters clash with police in Turin, Italy (VIDEOS)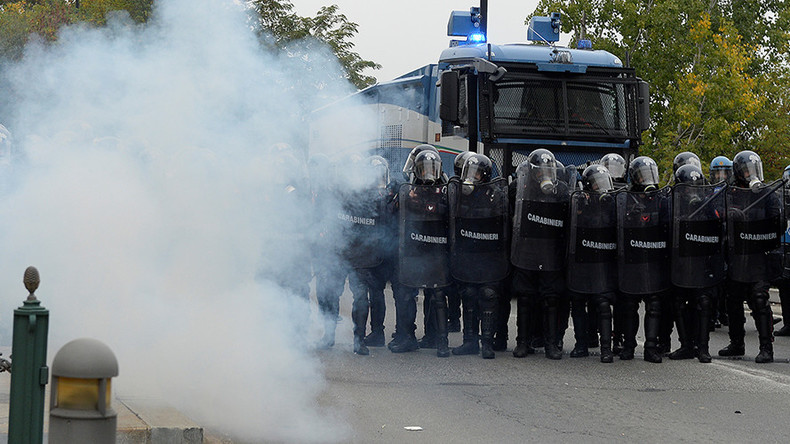 Hundreds of activists have descended on the northern Italian city of Turin to protest against the G7 ministerial meetings which have been held in a cordoned-off area. Police have deployed tear gas to prevent demonstrators from entering the closed area, Italian media reports.
People came from Pisa, Bologna and other Italian cities to protest while the G7 ministerial meetings were being held at the local UNESCO World Heritage site, the Palace of Venaria Reale, Italy's Repubblica newspaper reported Saturday.


Police officers allowed demonstrators to reach an area some one mile away from the palace, but would not let the protest go any further and blocked all streets leading to the meeting venue, according to the newspaper.
Clashes broke out between protesters trying to reach the site and officers holding the police line. Firecrackers were reportedly thrown at the officers, with police responding with tear gas to stop demonstrators from getting any closer to the G7 site.
A police helicopter has also been deployed.
Protesters have reportedly erected a previously used improvised guillotine, with dummies of Italian politicians as victims.
READ MORE: 'We are giants, you are the seven dwarves!' : Clashes at anti-G7 rallies in Turin (VIDEO)
The G7 ministerial meetings have been ongoing during the past week, with the latest official engagements being moved to the cordoned-off former royal residence near Turin to avoid clashes with protesters.