Russian MoD releases footage of airstrikes on terrorists in Syria (VIDEOS)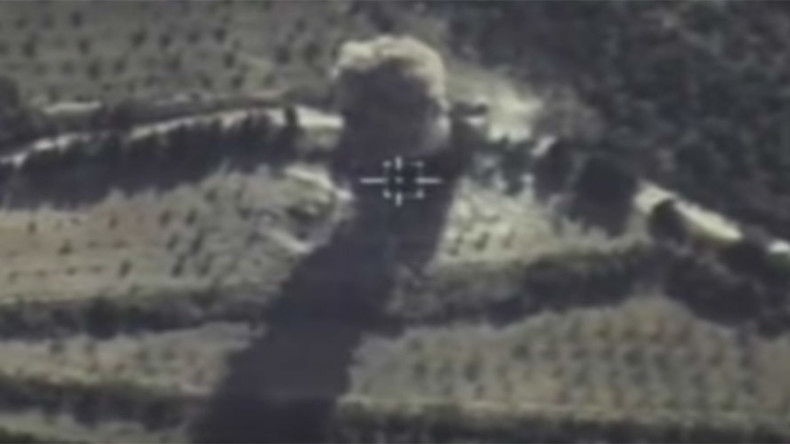 The Russian Ministry of Defense has released a new series of short videos showing the Russian Air Force scoring hits on terrorist targets in Syria.
The newly released footage, captured by military surveillance planes and drones, shows airstrikes on Islamic State (IS, formerly ISIS/ISIL) and Al-Nusra Front terrorist positions. The videos were released by the Russian Defense Ministry on Saturday.
READ MORE: Russian air strikes kill 2,000+ ISIS, Al-Nusra terrorists in Syria in 11 days – military (VIDEO)
One video shows a direct hit on an IS target in the Syrian desert, with a bomb landing within the walls of the position, while the terrorists attempt to flee, the defense ministry says.
Another video shows an airstrike on an Al-Nusra Front base, according to the defense ministry. Several vehicles can be seen at the location prior to the massive blast, which presumably destroyed or heavily damaged them and destroyed the base itself.
In one video, the air force can be seen reportedly scoring a direct hit on a terrorist anti-aircraft gun truck.
The last video shows a massive blast, disabling a terrorist pickup truck, according to the Russian military. Another vehicle can be seen on fire.