13-ton bonfire of drugs set ablaze in Afghanistan (VIDEO)
Published time: 27 Sep, 2017 14:38
Edited time: 28 Sep, 2017 07:33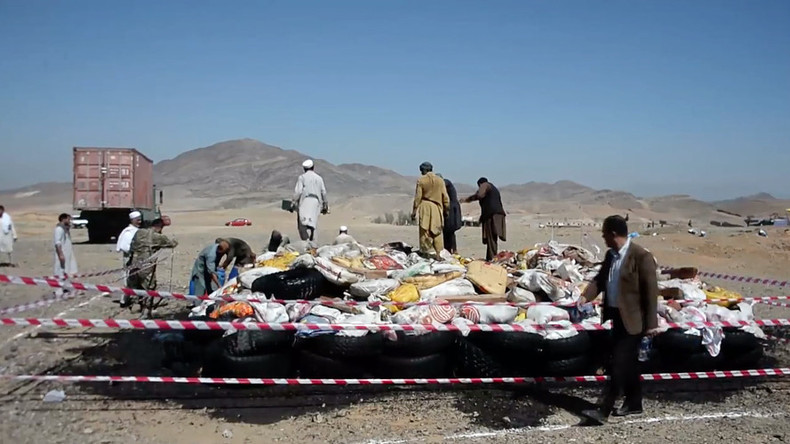 Authorities in Afghanistan have arrested more than 300 people and set fire to around 13 tons of drugs in the latest effort to crack down on the country's lucrative illegal narcotics trade.
Footage of the burning shows officials unloading opium-based drugs, chemicals and alcohol from a shipping container laid on the back of a truck. The contraband is then thrown into a pile, which is then coated in gasoline and set ablaze near Jalalabad, east of the capital, Kabul.
"In total 13 tons of different narcotics including heroin, morphine, hashish, opium, chemicals, alcoholic beverages and caffeine were set alight," said Duty Governor and Police Chief for the province of Nangharhar, Adbul Rahman Rahimi.
Some 336 people were arrested in the operation.
The Taliban enforced a ban on poppy production after taking over the country in 1996. In recent times, however, Afghanistan's crop has grown considerably, beginning with the US-led invasion in 2001.
The country produced 80 percent of the world's opium, a trade worth around $3 billion a year – with now even the Taliban tapping into the market.
READ MORE: Make Afghanistan Great Again? Trump touts 'delusional gold rush' in 'graveyard of empires'
Last month, Afghan officials told AFP that the Taliban has near total control over the poppy crop. Concerns are also growing that the group is operating its own refineries, turning opium into morphine and heroin for the Western market.
"The Taliban need more money to run their war machine and buy guns, that is why they have taken control of drug factories," said Sayed Mehdi Kazemi, a spokesman for the Afghanistan's Interior Ministry's counter-narcotics department.
The total area under poppy cultivation in Afghanistan was estimated at 201,000 hectares in 2016, an increase of 10 percent from the previous year, according to a report by the United Nations.
The UN report also claimed that resident security forces managed to eradicate just 355 hectares of the crop last year, a small fraction of a total area that produced 4,800 tons of the drug.
According to Global Research, the latest figures represent a 20-fold increase in areas under opium cultivation since the US invasion in October 2001.