Russia to destroy last chemical weapons on Wednesday, ahead of schedule – Kremlin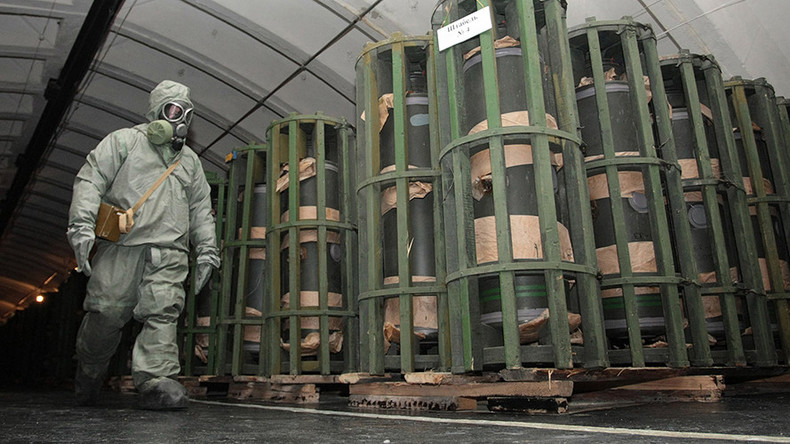 Russia on Wednesday will destroy the last batch of its chemical weapons stockpile, fulfilling its obligation under the convention on prohibition of chemical weapons, the Kremlin announced.
The landmark disposal operation will be conducted at a plant near the village of Kizner in Udmurtia in the Urals, Kremlin spokesman Dmitry Peskov told journalists.
"We are fulfilling our obligation under the Chemical Weapons Convention to fully destroy our chemical weapons arsenal, and we do it ahead of schedule," he said.
Russia signed the CWC in 1993 and launched a program to dispose of its arsenal in 1996, which allowed it to join the organization for the prohibition of chemical weapons (OPCW), the watchdog of the convention, a year later.
At the time Russia declared some 40,000 tons of CW agents in its possession, which it pledged to dispose of by 2020.
In 2002, Russia launched its first specialized disposal plant, with additional facilities becoming operational in 2007, 2009, 2010 and 2013, specializing in different kinds of agents or located next to the biggest storage facilities. By 2015, some 92 percent of the stockpile had been destroyed. Russia also destroyed or converted plants, which were used to produce chemical weapons.
By 2017, the Kizner disposal plant remained the only still operational in Russia. In March, it disposed the last batch of soman toxic gas, and in June, Russia reported that it no longer has sarin. The plant will continue work throughout next year, destroying canisters, bombs and shell left after their deadly content was disposed of.
The initial phases of the Russian disposal program were funded by the US and Canada, but since 2009 the country has self-funded it.
Peskov remarked that the funding issue caused "serious tension" between Russia and the OPCH in the early 2000s, but it had been resolved.
You can share this story on social media: