Ukrainian Army warehouse blaze, explosions of rockets & tank munitions force 20,000+ to flee (VIDEO)
Over 1,000 rescue workers are battling a massive blaze at a military warehouse in Ukraine's Vinnytsia region, where over 20,000 people have been cleared as the explosions of munitions for multiple rocket launchers continue to threaten the lives of locals.
According to reports, the depot is spread across 60 hectares and holds some 188,000 tons of ammunition including rockets to multiple launch systems, such as the 'Smerch', 'Uragan' and 'Grad'.
Over 1,000 firefighters and dozens of rescue vehicles continue to battle the blaze.
As a precaution, Ukrainian authorities have closed off the airspace within a 50 km radius of the city.
At least two women have been injured in the blaze. They both sought medical help in the local hospital, the deputy head of Vinnytsia Region administration, Andrey Gizhko, said, as cited by 112 Ukraine TV.
"Many houses have been destroyed, there are casualties," a local woman told 112 Ukraine, adding that many livestock have been killed in the incident.
All traffic has been halted in several areas across Vinnytsia Region due to the incident, the Ukrainian emergency services say.
Around 30,000 people were evacuated as of Monday morning, they added.
The fire at a military depot in the town of Kalinovka started shortly before 10:00pm local time, resulting in the detonations, the interior ministry said.
"Today, on September 26, at 21:50, the Kalinovskiy police department of the Vinnytsia region received a report of the detonation of ammunition on the territory of one of the military stations," authorities said in a Facebook post.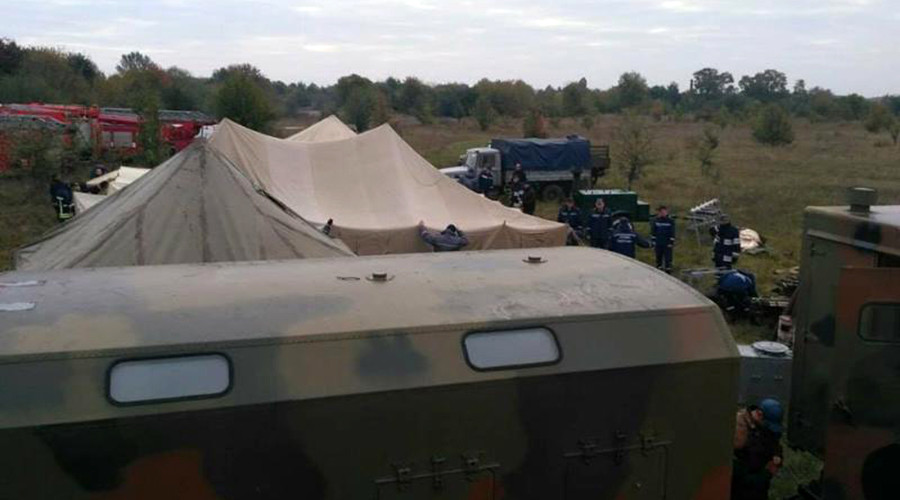 Authorities have ordered police officers from the Vinnytsia, Zhytomyr and Khmelnytsky regions to rush to the scene the statement added. Police cordoned off roads leading to Kalinovka and are now clearing residents of the town and surrounding villages as munitions continue to explode.
READ MORE: Large munitions depot up in flames in Ukraine, nearly 20,000 evacuated (VIDEO)
You can share this story on social media: