No intervention: Venezuela has right to pursue own path, Ecuador president tells RT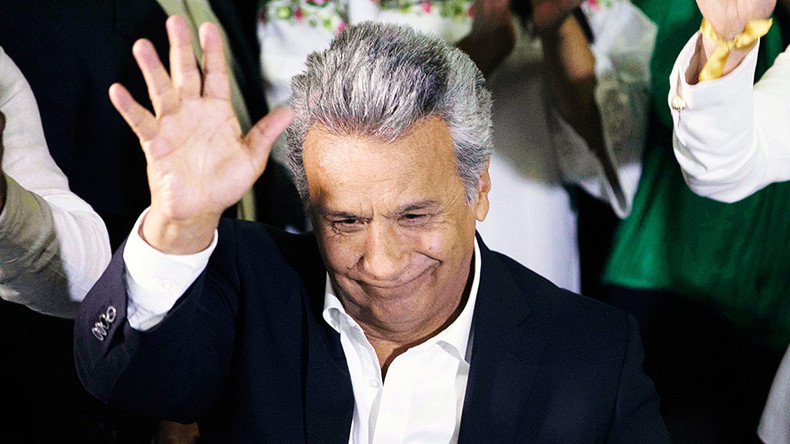 Each nation is free to pursue its own path and has the right of self-determination, the leader of Ecuador, Lenin Moreno, told RT Spanish in an interview regarding the turbulent situation in Venezuela. The president believes there should be no meddling in Venezuelan affairs.
"Ecuador has stated there should be no meddling, each country has right to its own path, its own way, the right to self-determination, there should not be even the slightest possibility of other countries' intervention on its territory," Moreno told RT's Eva Golinger on the sidelines of the ongoing General Assembly annual session at the UN headquarters in New York.
The remarks came in response to a question on the US president's debut speech at the UN, where Donald Trump chided "the socialist dictatorship of Nicolas Maduro," which "inflicted terrible pain and suffering on the good people of [Venezuela]." Trump called on the Venezuelans to "regain their country and restore their democracy," warning that the US was "prepared to take further action" should Caracas keep on imposing "authoritarian rule" on its people.
Moreno said that talks over the crisis in Venezuela are being launched in the Dominican Republic. Moreno believes that dialogue is "always the best option to resolve acute problems, such as those that Venezuela is currently going through."
Venezuelan President Nicolas Maduro was quick to hit back at Trump's UN General Assembly speech from Caracas, describing the US leader as "the new Hitler of international politics."
"Nobody threatens Venezuela and nobody owns Venezuela. Donald Trump today threatened the president of the Bolivarian Republican of Venezuela with death," Maduro said.
In August, the US leader warned that Washington wouldn't exclude a military intervention in Venezuela.
"We have many options for Venezuela, including a possible military option if necessary," he said. The comment came amid Washington's discontent with the election of a new government body, the Constituent Assembly, which the US decried as "undemocratic."
Trump's harsh stance on Venezuela, however, met with criticism from regional leaders, with Mexico, Colombia, Brazil, Chile, Argentina and Peru speaking out against Washington's possible use of force.

READ MORE: US-Venezuela standoff: Latin America haunted by 'ghost of military interventions'
You can share this story on social media: