Saudi Arabia allows women into sports stadium for 1st time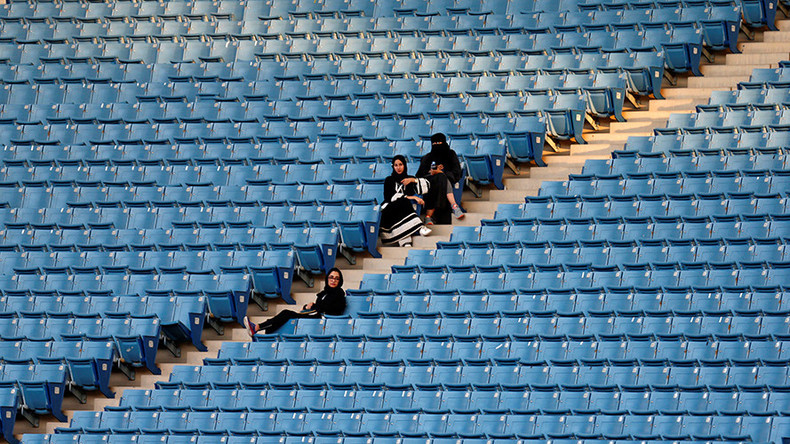 Saudi Arabia is celebrating the Kingdom's 87th anniversary with music, folk dance performances, and fireworks, but is also showing signs of reform by allowing women to enter public spaces typically reserved for men only, in a historic first.
Hundreds of women attended celebrations at the King Fahd stadium in the capital, Riyadh on Saturday, which is normally forbidden due to strict public segregation rules under the Wahhabi brand of Sunni Islam which informs Saudi law.
"We hope in the future that there will be no restrictions on our entrance to the stadium," Um Abdulrahman, a woman from the northwestern city of Tabuk, told AFP. "For many years ago I have hoped that women will be given the same rights as men."
Women were seated away from single men and had to enter through a separate gate, but it does mark a change in the notoriously austere and hardline societal norms in the Kingdom.
For context, under Saudi law, women are not allowed drive and must seek the permission of a male family member to be allowed travel or even study.
"It is the first time I have come to the stadium and I feel like more of a Saudi citizen. Now I can go everywhere in my country," said 25-year-old Sultana, as cited by Reuters. "God willing, tomorrow women will be permitted bigger and better things like driving and travel."
Half of the Saudi population is under the age of 25, which may explain why the country launched the Vision 2030 program two years ago. Vision 2030 is an attempt by the authorities to wean the Saudi economy off crude oil and provide more innovation and employment for its young population.
Roughly 1.5 million Saudis are expected to attend National anniversary celebrations in 17 cities over four days.
"The kingdom will remain a bulwark for those who love benevolence, their religion and their country," King Salman of Saudi Arabia tweeted.
كل عام وبلادنا بخير وعزة ومجد، وستبقى المملكة حصنًا قويًّا لكل محب للخير، ومحب لدينه ووطنه.

— سلمان بن عبدالعزيز (@KingSalman) September 23, 2017
You can share this story on social media: