US nuclear carrier conducts naval drills with Japan as N. Korea threatens H-bomb test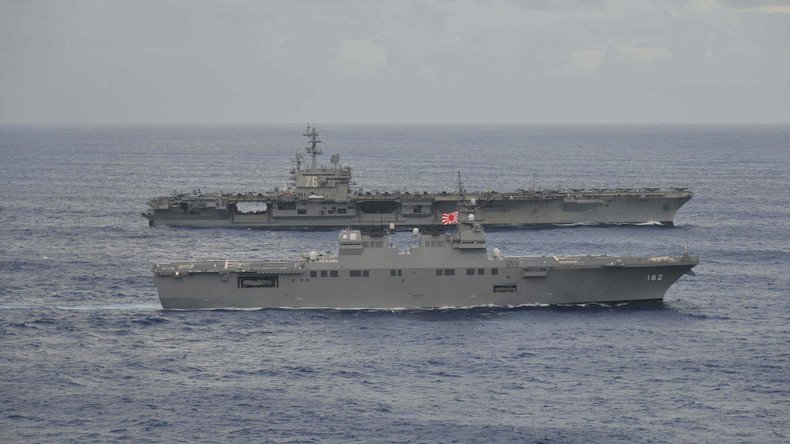 The 100,000-ton US Navy supercarrier 'Ronald Reagan' has conducted drills with Japanese warships south of the Korean Peninsula, Japan's military said. Pyongyang, meanwhile, has threatened a further "hydrogen bomb test" over the Pacific.
The Japan Maritime Self Defense Force said in a statement on Friday that the Nimitz-class nuclear-powered supercarrier 'Ronald Reagan,' based in the Japanese town of Yokosuka, Kanagawa Prefecture, and its escort ships have been holding drills with Japanese Navy vessels in waters south and west of Japan's main islands since September 11. The strike group is also set to stage a separate drill with the South Korean Navy in October, the Defense Ministry added.
The large-scale drill will involve three Japanese warships, including two destroyers and one of the country's two biggest helicopter carriers, and will run until the end of the month.
On Friday, North Korean Foreign Minister Ri Yong-ho said that Pyongyang is considering testing a hydrogen bomb over the Pacific Ocean. The move is said to be in response to Washington stepping up economic sanctions against North Korea.
"It could be the most powerful detonation of an H-bomb in the Pacific," Ri said, as quoted by South Korean agency Yonhap.
The suggestion came as Ri was asked to clarify the latest statement by Kim Jong-un, in which the North Korean leader vowed revenge against US President Donald Trump for insulting him and his country "in front of the eyes of the world" by threatening "to destroy" North Korea.
In a statement issued by North Korean state-run agency KCNA on Friday, Kim said he "will consider with seriousness exercising of a corresponding highest level of hardline countermeasure in history," while promising that the US will "pay dearly" for Trump's remarks at the UN General Assembly.
Kim then said that "whatever Trump might have expected, he will face results beyond his expectation."
In his remarks at the 72nd session of the UN General Assembly on Tuesday, Trump threatened to "totally destroy" North Korea if forced to defend the US or its allies. Trump added fuel to the fire by calling Kim a "rocket man" on a "suicide mission for himself."
Pyongyang slammed Trump's remarks, likening his threat to "the sound of a dog barking."
Trump's statement also came under fire from German Chancellor Angela Merkel.
"I'm against such threats," Merkel said on Wednesday, urging the US leader to focus on diplomatic ways of resolving the unraveling crisis while describing a military solution as "totally inappropriate."
German criticism apparently fell on deaf ears, with Trump taking to Twitter on Friday again to say that Kim Jong-un is "obviously a madman."
US Secretary of State Rex Tillerson said on Friday that while tensions with North Korea were mounting, diplomatic efforts would nonetheless continue.
"We are quite challenged but our diplomatic efforts continue unabated," Tillerson said in an interview with ABC. "We have put in place the strongest economic sanctions ever to have been assembled against Kim Jong-un," he added. "So, he is being tested with the sanctions, voices from every corner of the world," Tillerson concluded.
Russia has meanwhile insisted that diplomatic negotiations may be the only way to resolve the tensions on the Korean Peninsula.
Any other scenario could lead to "very undesirable and even catastrophic consequences," Kremlin spokesman Dmitry Peskov noted on Friday. "Moscow is still calling all concerned parties for restraint," Peskov added.
On September 3, Pyongyang claimed to have carried out its first H-bomb test, hailing it as a "perfect success" and a "meaningful" step further into the development of the nuclear program. State media reported at the time that it allegedly could be mounted on an Intercontinental Ballistic Missile (ICBM), although this capability has been disputed outside North Korea.  
You can share this story on social media: