'Powder, sharps, threats in poor Arabic' sent to homes of Angela Merkel, other politicians
Published time: 22 Sep, 2017 11:43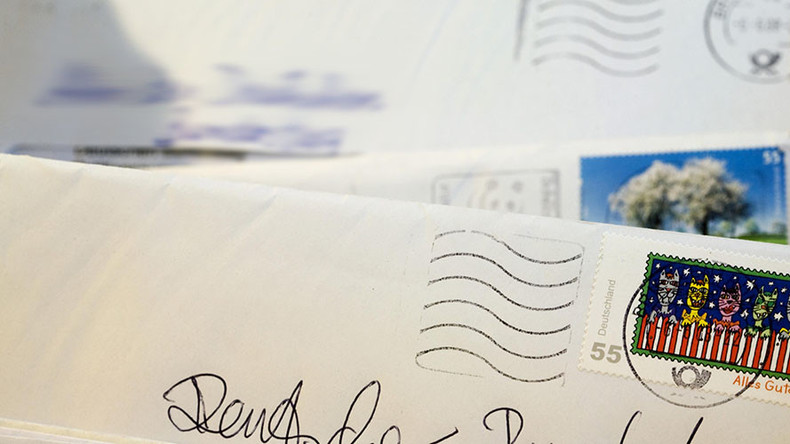 With just days to go until the parliamentary elections, a number of high-profile politicians' households, including Angela Merkel's, have been targeted by threatening mail. The suspect envelopes contained white powder and razor blades.
Berlin police carried out a preliminary investigation into the contents of the suspicious mail, and concluded that the letters had been sent on Wednesday and Thursday. The powder was not found to be a hazardous substance, the German Interior Ministry stated.
"According to the findings so far, there was no danger for the recipients," the ministry's spokesperson said, as cited by Deutsche Welle. However, the substance will undergo a more detailed analysis.
So far the consensus is that the powder was baking soda, Tagesshau reports.
Alongside the powder and, in some cases, the razor blades, each envelope contained a letter consisting of several phrases in broken Arabic. The text reportedly mentions a "German Salafist association" and warns off on the letter's contents as "anthrax", "lethal, do not touch, life-threatening," as reported by the Handelsblatt newspaper. The letters concludes with a traditional Muslim greeting "Allahu Akbar."
Among the recipients of the mail reported either by police or by German media were the head of Merkel's Bavarian ally, the Christian Social Union, Horst Seehofer; candidate from the Green Party Katrin Göring-Eckardt; Green MP Hans-Christian Ströbele; former Left Party chairman Gregor Gysi; his fellow party member Gesine Lötzsch; as well as Integration Minister Aydan Özoguz from the Social Democratic Party (SPD).
German Chancellor Angela Merkel, who is heading for a landslide victory according to the polls, was reportedly also among the top politicians targeted in the apparent hoax. A letter with similarly bizarre contents was reportedly addressed to her husband, Joachim Sauer. However, the German government refused to comment on the issue, according to Tagesshau.
"We do not give any information on security-related issues," the government's spokesperson was cited by Volksblatt as saying.
In contrast, Ströbele came forward about the incident on social media, posting a photo of an opened letter, razor and powder he received on Twitter.
Speculation immediately arose as to who might be behind the bogus anthrax threat, with victims and commentators speaking of a false flag operation and "fake terrorism". The messages were also flooded with spelling errors, which intensified the suspicions.
"There's a certain likelihood that, despite the Arabic language used here, the radical right sent the message," Ströbele said, commenting on the package to NDR and WDR.
READ MORE: 'Leaked' email alleges AfD co-chair called Merkel 'pig & puppet,' stirs pre-election scandal
Gysi, for his part, said he is more concerned about the fact that unknown perpetrators knew where he lived.
"If it is a threat, which is suspected, I am only concerned about where they got the private addresses of the politicians affected, including mine," he said.