Why & how Norwegian F-16 jet almost killed 3 officers during military drill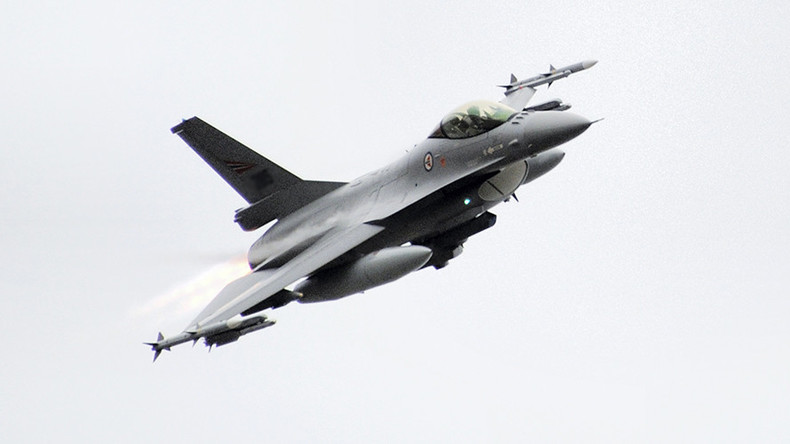 The Norwegian Air Force has released a report explaining an incident involving one of the country's F-16 fighters. The jet opened fire on a control tower and three officers inside came within a hair's breadth of losing their lives.
The incident took place during exercises over the Tarva archipelago off Norway's west coast in April 2016. Two F-16s were performing a mock attack on an enemy station on the uninhabited island, when one of the jets mistakenly opened fire on the control tower with its 20-mm M61 Vulcan cannon, capable of an extremely high rate of fire.
Three officers were inside the structure at the time of the near-miss incident.
READ MORE: Norwegian F16 jet mistakenly shoots up control tower with officers inside
More than a year later, the Norwegian Air Force has released a report detailing what exactly happened on what very nearly became a black day for the country's military.
The pilot of the F16 fired at least forty rounds at what he thought was a target, the report seen by Fosna-Folket newspaper said.
Five shots struck the observation tower, mere centimeters away from the officers inside.
The investigation showed four primary reasons for the incident, including the pilot's level of experience and the preparations for the drill. One of the major causes was a light in the control tower that was switched on during the manoeuvre, causing the pilot to confuse the tower with the target. The report states that there were also issues with the complexity of the task.
"Based on the conclusions and safety recommendations given in the report, it is clear that this serious incident is not directly connected to one individual, and as such could have occurred with different personnel in the cockpit," Air Force communications head Major Stian Roen said, as cited by Dagbladet newspaper.
The F-16 'Fighting Falcon' is one of the world's most numerous and popular military aircraft, according to aviation specialist website Flightglobal.