'If you want a shot of something, I can offer you anything,' Lavrov tells Swiss FM
Published time: 19 Sep, 2017 06:01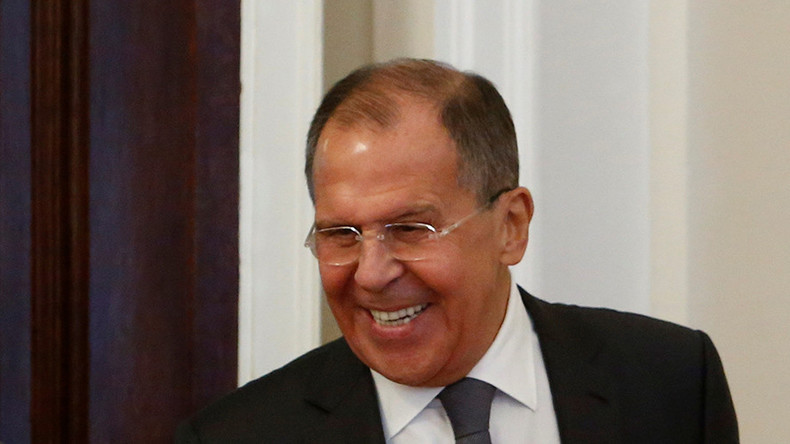 Sergey Lavrov is known for his occasionally brusque demeanor with journalists and a penchant for trading friendly banter with foreign officials during photo ops. Both qualities were on display at a meeting with Swiss Foreign Minister Didier Burkhalter.
Asked whether he minded if photographers took a shot of the two during a bilateral meeting in New York, Lavrov replied, "If you want a shot of something, I can offer you anything."
After the two ministers, who are in New York for the UN General Assembly, posed for the cameras, Lavrov jokingly inquired, "Is this a press conference?" He then ushered the media out of the room so the closed-doors talks could begin.
Lavrov's repartee with journalists went viral in the US this summer when he mockingly asked, "Was he fired? You're kidding! You're kidding!" after journalists continually interrupted a joint statement with US Secretary of State Rex Tillerson with questions about recently dismissed FBI chief James Comey.
Earlier this year, Lavrov promised to "teach Tillerson to dance" after the US official said relations with Moscow were bleak, because it "takes two to tango," pointing out that the Secretary of State is sure to prove a "fast learner."
When grilled by NBC over whether Donald Trump and Vladimir Putin met as many as three times at the G20 in Hamburg in June, an exasperated Lavrov replied, "Maybe they went to the toilet together, that was the fourth time," before pointing out at that world leaders do "not arrive [at summits] at the same time in a bus" and are allowed to talk to each other between meetings.