Ships, subs & helicopters: Russia & China kick off massive naval drills near Korean Peninsula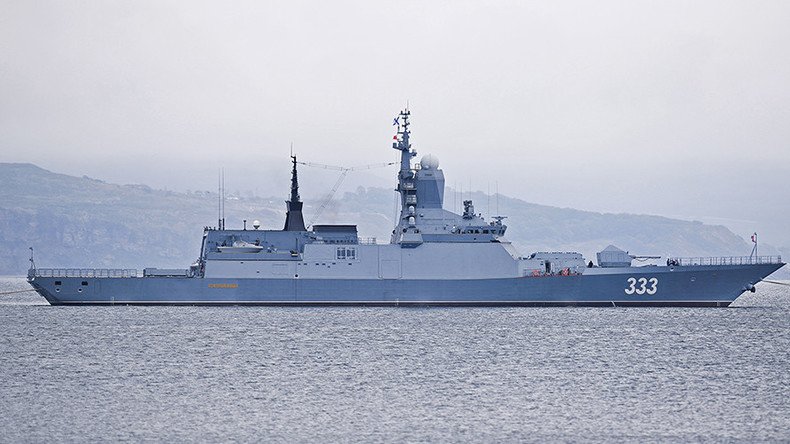 A joint Russian-Chinese naval force of more than a dozen military vessels, including submarines, will participate in the upcoming second stage of the Joint Sea-2017 naval drills in the Sea of Japan and Okhotsk.
The drills will kick off Monday and continue for a week, according to the spokesman for Russia's Pacific Fleet, Vladimir Matveev.
"The second stage of the Russian-Chinese naval exercise Joint Sea-2017 will involve 11 surface vessels, two submarines, four deep-submersible rescue vehicles, four anti-submarine planes and four deck helicopters," Matveev told reporters Friday.
The Russian Pacific Fleet is represented by the large anti-submarine ship Admiral Tributs, cutting-edge modern corvette Sovershenny, the rescue vessel Igor Belousov equipped with deep-submersible rescue apparatus AS-40, two diesel submarines and a number of support ships. China rolled out the destroyer Shijiazhuang, the frigate Daqing, the submarine support ship Changdao with deep-submersible rescue vehicle Elar-7.
The drills will consist of two parts – on land and sea. Russian and Chinese marines will be training together at the Gornostay test grounds near Russia's Far Eastern city of Vladivostok. The second part will be naval, taking place in the waters of the Sea of Japan and Okhotsk.
The first stage of the drills, aimed at furthering cooperation between the two fleets in countering security threats at sea, took place in July in the Baltic.
"This is the first visit of the Chinese fleet to Baltiysk in the history of the Russian-Chinese relations," Russian Baltic Fleet spokesman Roman Martov said at the time.
The drills have been held regularly since 2012, and their goal is improving security in the world's oceans, as well as strengthening cooperation between the navies of the two countries.
You can share this story on social media: