'Don't underestimate Catalan strength': Mayors march in defiance of Madrid (PHOTOS, VIDEO)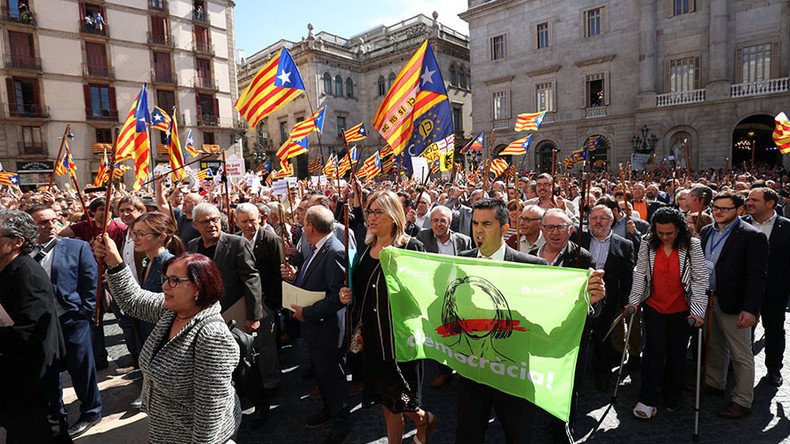 Hundreds of mayors from the Spanish region of Catalonia marched through the streets of Barcelona in an act of defiance to the central government's crackdown on the upcoming separatist referendum.
More than 700 mayors gathered in Barcelona Saturday to march through the streets of Catalonia's cosmopolitan capital.
Brandishing maces, chanting "we will vote" and singing "Els Segadors", the regional anthem, the mayors were cheered on by supporters waving yellow, red and blue Catalan flags.
"Don't underestimate the strength of Catalonia's people who have taken the decision to decide," declared Catalan President Carles Puigdemont.
Catalonia is expected to hold an independence referendum on October 1, despite the plebiscite being declared illegal by the Spanish federal government.
READ MORE: Spain's state prosecutor orders probe into 700+ Catalan mayors for cooperating with referendum
Earlier, Spain's Constitutional Court suspended legislation passed in the Catalan parliament which paved the way for the vote.
Nevertheless, 740 of Catalonia's 948 mayors have pledged to keep municipal buildings open for voting on the day, leading the Spanish public prosecutor to threaten them with arrest.
Police have also raided a printing house and several other premises in search of ballot papers and boxes as well as other materials to be used for the referendum. On Friday, Catalonia's highest court also issued a warning to seven local newspapers not to print any notices for the independence referendum.
"I think it's very sad. It's more than just indignation to see the democratic degeneration of the Spanish state and this feels bad. This is what we regret most of all," Neus Lloveras, member of the Catalonian parliament, told RT.
However, not all the localities have thrown their support behind the referendum, including Barcelona. City authorities have been forced to sign an agreement that federal money will not be used for referendum purposes. Madrid has threatened to strip Catalonia of its budget if any funds are channeled to the referendum.
Catalonia is sharply divided, with a government poll in July finding that 41.1 percent of people were for and 49.4 percent against independence, although the vast majority agree to holding a referendum to decide the matter.
"The majority of the members of the Catalan parliament are in favor of independence. Eighty percent of the Catalan citizenship is in favor of the referendum of self-determination to ask Catalans whether or not they want independence," Anna Arque from the EU Partnership for Independence told RT. "We keep offering the Spanish state to be involved and to participate in this democratic exercise, but it's up to them."
You can share this story on social media: