Man with knife attacks soldier in Paris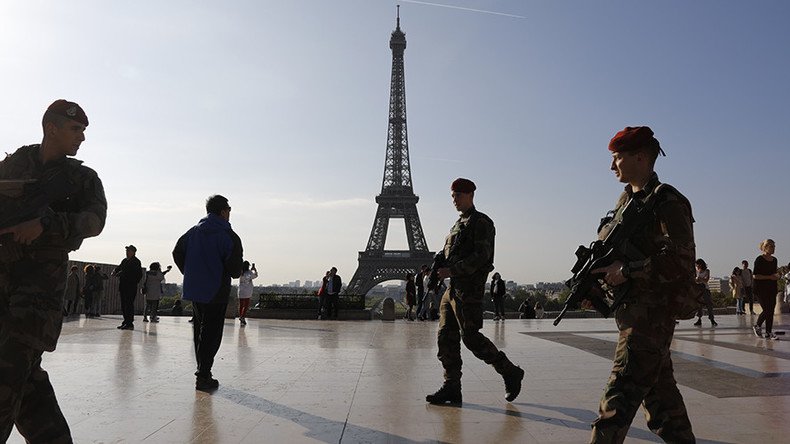 An individual armed with a knife threatened a soldier patrolling the Châtelet metro station in Paris. The man was arrested without being able to hurt the Operation Sentinel soldier according to French media, citing the Police Department.
According to a preliminary investigation, the assailant made statements referring to "Allah" and "Daesh" and was quickly seized by the soldier, a police source said. The individual was not known to the police, the source added.
The French army's anti-terrorism Operation Sentinel was established following the 2015 terrorist attacks in Paris. This is the seventh attack against the patrolling soldiers, Europe 1 radio reported.
READ MORE: French troops hit by vehicle: 'Good behind the scenes intelligence work needed to stop attacks'
"This new attack legitimizes what we want to do," French Defense Minister Florence Parly told Europe 1. "The man has been seized, which is further proof of the professionalism and efficiency of the Sentinel soldiers in this protection mission," she said. "We do not know more about the intentions of the aggressor who was arrested, but this new attack fully legitimizes what we want to do, that is to make the forces placement even more unpredictable, even more undetectable for potential aggressors."
On August 9, at least six French soldiers were injured, three of them seriously, when they were hit by a vehicle in a north-western Paris suburb. The incident took place in Levallois-Perret commune, only 6 km from the capital. The suspect was arrested hours after the incident on a motorway in northern France.
In June, police shot and injured a man who attacked three officers with a hammer near Notre Dame Cathedral in Paris while shouting "this is for Syria." The man, who injured one of the officers, was also armed with two knives, French media reported. One officer was hit in the head with the hammer, prompting police to fire at the attacker. The assailant had also threatened passersby before targeting the three police officers, according to BFM TV. Police later said on Twitter that the attacker had been "neutralized" and taken to hospital.
France declared a state of emergency following attacks in Paris in November 2015, in which more than 130 people were killed. It has been extended several times; the latest extension was in July and is expected to last until November 1.
You can share this story on social media: