Russian Defense Minister met Assad in Damascus, discussed military operations in Syria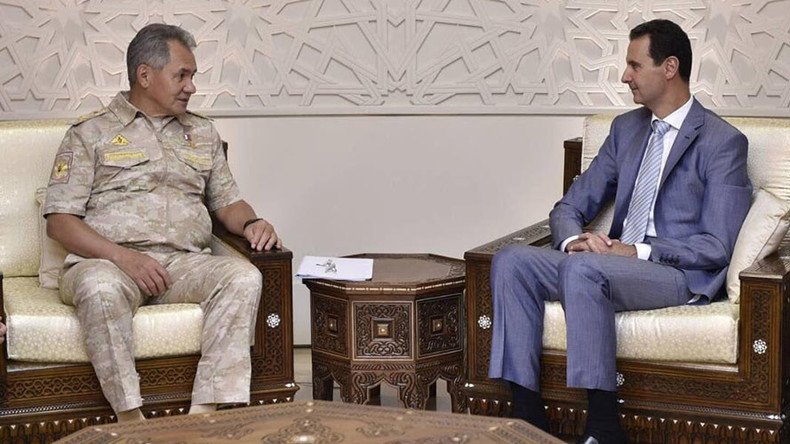 The Russian Defense Minister Sergey Shoigu has held talks with the Syrian President Bashar Assad during his visit to Damascus. The two sides discussed military cooperation and joint actions against jihadists in Syria.
"During the meeting, the two sides discussed the military and military-technical cooperation between [Russia and Syria] in view of the successful operations of Syrian government troops supported by the Russian Air Force aimed at defeating Islamic State (IS, formerly ISIS/ISIL)," the Russian Defense Ministry said in a statement.
The Russian defense minister and the Syrian leader also touched on issues relating to the general stabilization of the situation in Syria, as well as to the functioning of the de-escalation zones and providing humanitarian assistance to the Syrian people, the statement added.
Shoigu's working trip to Syria was on the orders of Russian President Vladimir Putin.
The visit comes just days after Russia's Defense Ministry said the Syrian Army seized control of around 85 percent of the country's territory from insurgent terrorists.
Lieutenant General Aleksandr Lapin, Russia's chief of staff in Syria, told reporters at the Khmeimim Air Base that Syria's forces will now have to liberate the remaining 15 percent, around 27,000 square kilometers.
Meanwhile, Syrian government forces continue their operation aimed at completely freeing the eastern Syrian city of Deir ez-Zor from Islamic State. The blockade of Deir ez-Zor was broken on September 5 by Syrian forces after three years of IS control.
Russia has been providing assistance to the Syrian Army since 2015, and with Russian military support, the Syrian army has freed Hama, Homs, Latakia, Palmyra and Aleppo from the clutches of IS.
In March 2016, President Putin ordered a partial withdrawal of Russian forces because they had reached all of the stated goals that had been set in the country. However, a group of the Russian military aircraft remained at Khmeimim and it continues to lend support to government forces by striking terrorist targets.
You can share this story on social media: