'Love and courage': Canadian politician's response to anti-Muslim tirade goes viral (VIDEO)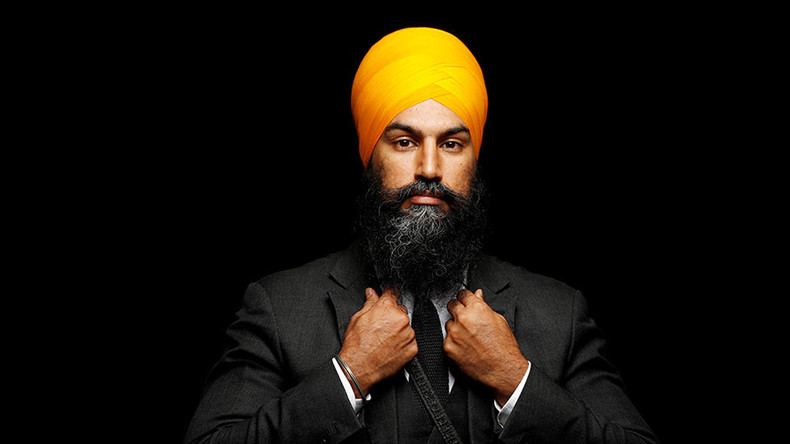 A Sikh politician in Canada has become a viral sensation for his calm response to an anti-Muslim confrontation at a campaign event.
Jagmeet Singh, 38, a candidate for leader of the left-leaning New Democratic Party (NDP), was speaking at one of his 'JagMeet and Greet' events in Brampton, Ontario, when he was accosted by local resident Jennifer Bush.
The woman claimed that Singh, who practices the Indian religion of Sikhism, was an advocate of Sharia Law, a traditionalist set of religious laws in Islam.
"We know you're in bed with Sharia," said Bush, interrupting Singh as he took the microphone to begin the event. "We know you're in bed with the Muslim Brotherhood."
Ignoring Bush, Singh addressed the crowd, saying: "We believe in love and courage... We don't want to be intimidated by hate, we don't want hatred to ruin a positive event... So let's show people how to treat someone with love: We welcome you. We love you. We support you."
The incident, which was captured by local news outlet Brampton Focus and posted to its Facebook page, ended when the woman stormed off after Singh's supporters began chanting "Jagmeet" and "love and courage."
In a statement following the event, Singh said he chose not to answer Bush's questions because he "didn't accept the premise."
"Many people have commented that I could have just said I'm not Muslim. In fact, many have clarified that I'm actually Sikh," he said. "While I'm proud of who I am, I purposely didn't go down that road because it suggests their hate would be ok if I was Muslim."
Speaking in a video posted to her Facebook page, Jennifer Bush sought to justify her outburst by citing Singh's support for M-103, a motion calling on members of the Canadian Parliament to condemn racism and Islamophobia, which she believes to be a Sharia-style "blasphemy law."
"I'm not a racist," Bush says in the footage. "I strongly support the Hindus, we work together on a regular basis."
The video of the Brampton event has created a stir online, with many social media users unimpressed by the woman's anti-Muslim tirade and praising Singh's reaction.
"Did you see that woman scream about Sharia law to that Sikh politics dude? Even *you're* not that dumb"

Overheard @ Starbucks

— Elias Gideon (@eligdeon) September 10, 2017
This is a Canadian Sikh. They are all unique & awesome. Canada is lucky to have them as part of its culture.

— (buttplug antifa ❄) (@legeregraphics) September 10, 2017