'US wanted him for his intellect' – wife of Russian arrested for alleged Bitcoin fraud to RT
Alexander Vinnik, a Russian national arrested in Greece after he was indicted by a US jury for alleged Bitcoin laundering, did not realize that his skills could make him a target for the US, his wife told RT.
"He didn't realize how interesting he could be to a state, especially one like the US," Alexandra Vinnik said in an interview to RT, referring to her husband, who was arrested on July 25 in the Greek resort of Halkidiki on a US warrant.
Alexandra describes her husband as a skilled cryptocurrency consultant, who was sought after by companies and individuals, possibly including major Bitcoin exchange platform BTC-e. She denies Vinnik ever owned BTC-e, contrary to media allegations. At the same time, the two never discussed details of his job, and Vinnik has never been a man of many words, she said.
Alexandra is convinced the US was keen to get him "because of his knowledge, because of his intellectual abilities above all."
A Northern California grand jury indicted Alexander Vinnik and BTC-e on 21 counts of money laundering and related crimes. The indictment alleged that BTC-e, a digital currency trading and exchange platform operating in US dollars, euros, Russian rubles, and a list of popular cryptocurrencies, including Bitcoin, received more than $4 billion worth of Bitcoin in illicit transactions.
Vinnik maintains his innocence, saying he "worked for BTC-e and carried out my duties."
"It's not legal to blame me for it. I found out about the accusations only a month after I was arrested," Alexander Vinnik told RT by phone through his lawyer, in his first interview since his capture.
According to Vinnik's wife, the charges are based on a statement that the BTC-e "operated without a license, avoided controls to prevent money laundering" and that its managers knew "they were creating a platform" for illicit schemes. "Because such business models allow criminals to use the exchange… By this way of thinking you could make the manufacturers of frying pans guilty because wives hit their husbands with them. It's the same thing," she says.
Responding to why he refused a voluntary extradition to the US, Vinnik said he believes he did not commit any wrongdoing in the first place. "Secondly, I don't understand what the US has to do with me and why they would put a Russian national on trial," he added.
"It's weird that a Russian citizen will be tried in the US for some reason," Alexandra said.
"He didn't run a business in America, he's not even been there, where is the common sense? Probably, the US could have requested Russia, not Greece about his extradition, as he is a Russian citizen."
"More than that, none of our relatives have ever been to the US," Alexandra added. She believes Alexander should be tried in a Russian court.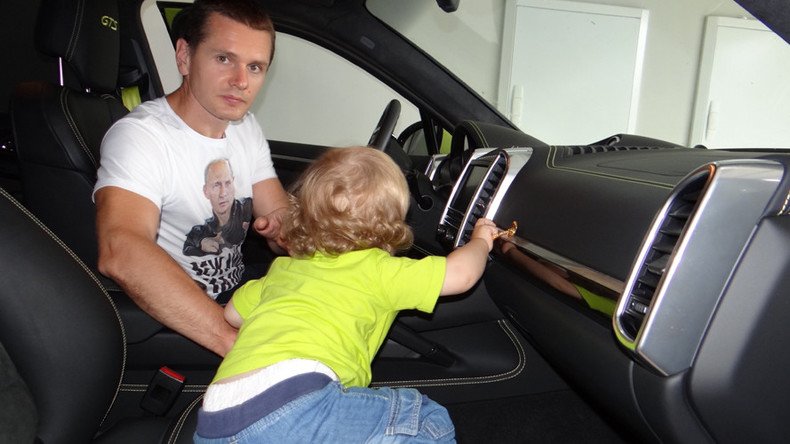 The arrest took place at a Greek resort where the couple went on vacation with their two kids.
"Some 20 people took part in the arrest, wearing shorts, tops and sunglasses. I didn't understand who they were and what that was about," Alexandra said, adding that the men waited until she left. "In a minute, I saw my husband handcuffed, sitting on a sunbed. He didn't resist, it was a complete shock for him."
Deprived of her phone, devices, and hotel room keys, the woman was kept on the beach with her kids from 11am to 7pm in the evening under the watch of three plainclothes men. "We couldn't go anywhere, children didn't eat anything," she says. Only later in the evening was she able to reach the Russian consul, who had not been notified of the arrest.
After all of the family's devices were confiscated, "they brought [Alexander] to me to say goodbye, as they put it," Alexandra said.
With Vinnik being held in a Thessaloniki prison, his wife traveled to Greece three times in one month to bring him clothes.
"Now I live for my husband's release. I just want to get my husband, my children's father, and nothing else. I don't rely on anyone and I know that my husband has only me, and me – only him, so I'll do everything possible."
"His return to Russia is my main goal that I want to achieve by all means," Alexandra says.
You can share this story on social media: