Russian navy ship passes under arch of epic Crimea Bridge for 1st time (VIDEO)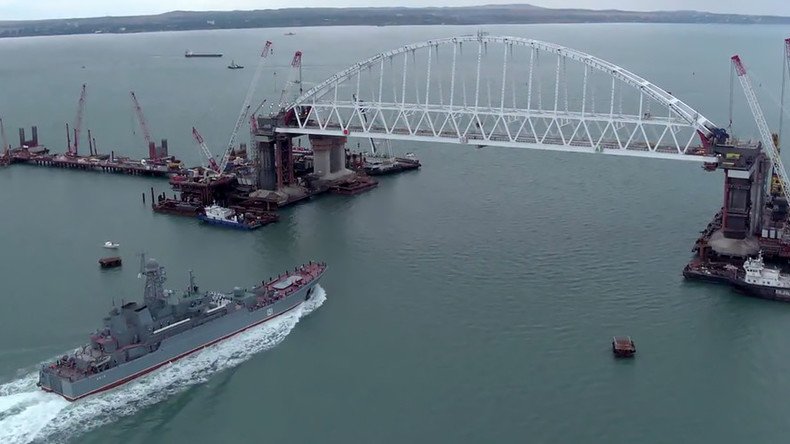 For the first time ever, Russian landing ship Azov has passed under the railway arch of the massive Kerch Strait Bridge, currently under construction to connect the Crimean Peninsula to mainland Russia.
The first arch of the bridge, which connects the Black Sea region of Krasnodar and the Crimean Peninsula, was erected late last month.
The length of the span is 227 meters, and the weight is 6,000 tons. It is suspended at a height of 35 meters.
Once finished, the 19-kilometer (12-mile) Crimean Bridge will be one of the largest ever built in Russia.
The bridge will connect Crimea with the mainland Krasnodar Region, providing a fast, reliable and cost-effective transportation link for passengers, as well as goods and services.
The bridge will have a four-lane highway and a two-lane railroad, capable of providing access for up to 40,000 people and dozens of trains a day to the peninsula over the Kerch Strait.
The Crimea Bridge is scheduled to be opened by late 2018 and to become fully operational by 2019.
You can share this story on social media: