Hindus furious at 'Ganesh eating lamb' commercial (VIDEO)
Published time: 6 Sep, 2017 12:11
Edited time: 7 Sep, 2017 19:13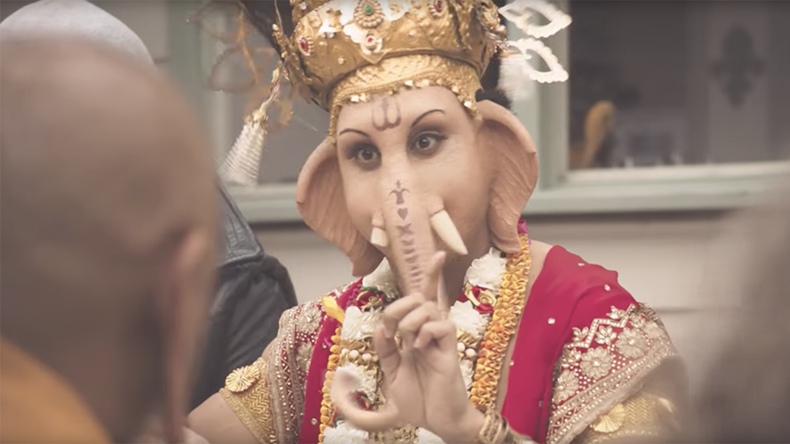 Meat & Livestock Australia angered the Hindu community with its latest advertisement featuring the Hindu god Ganesh eating lamb.
The commercial features the likes of Jesus, Zeus, Aphrodite, Moses, Buddha, Scientology's L. Ron Hubbard and Luke Skywalker sharing a lamb dinner.
Ganesh is an elephant headed, multi-limbed Hindu god of wisdom and learning and a remover of obstacles. He's believed to be vegetarian.
The ad shows Ganesh sitting in front of a plate of lamb racks. While he isn't shown eating the lamb, at the end of the ad the food on his plate has been eaten.
A petition was started calling for the ad to be "stopped immediately," and has gathered 2,016 signatures.
"Not only is it defaming the religion, it is also highly inappropriate for Hindus, Muslims and Buddhists as well," the petition reads. "This should be stopped immediately, it can not be accepted whatsoever."
"We urge to the PM of Australia to please look into this matter at the earliest before it catches [the] eye of foreign media and embrace[s] the racist image of the country world wide."
Pig eater x'ans depicting most pious Hindu God Shri Ganesh eating lamb.Two world war creators,worst criminals gutter brains are most fallen

— shruti sharma #HDL (@SharmaHDL) September 5, 2017
This ad for lamb is offending Perth Indian community. It has the God Ganesh eating meat, drinking wine! Not happy! https://t.co/D6iBOLgFKT

— Gary Adshead (@Gary_Adshead) September 5, 2017
The Advertising Standards Bureau (ASB) has received about 30 complaints so far, Ad News reports.
Indian Society of Western Australia spokesman Nitin Vashisht told ABC the commercial showing Ganesh "eating lamb and looking for a new marketing strategy for himself is really very insensitive to the community."
MLA group marketing manager Andrew Howie said in a statement: "The campaign features gods, prophets and deities from across a wide range of religions alongside atheism, in a clearly fantastic nature, with the intent of being as inclusive as possible. To achieve this we undertook extensive research and consultation."
MLA is no stranger to controversial ads. Last year it released an Australia Day ad showing Aboriginal Australians celebrating with a barbecue.
Australia Day celebrates the day Captain Arthur Phillip took possession of New South Wales, raising the British flag for the first time. Aboriginal Australians see the day as one of mourning, as it represents white settlers taking over their land and the subsequent suppression of their culture.