Last major pocket of ISIS terrorists' resistance in central Syria eliminated – Russian MoD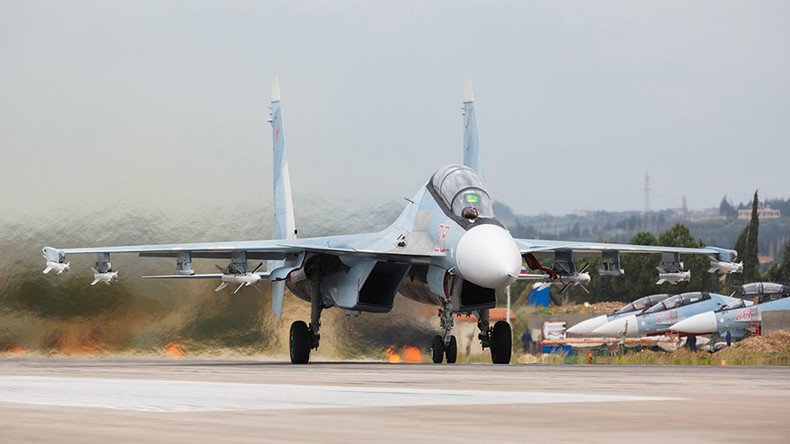 Syrian government forces, supported by Russian air power, have wiped out the last major pocket of terrorist resistance in central Syria, liberating the strategic town of Akerbat in Hama governorate, Russia's defense ministry has announced.
"The units of the 4th tank division of Syrian government forces, in collaboration with the 5th Volunteer Corps and military intelligence unit (Mukhabarat), liberated the town of Akerbat," the ministry said.
"The operation to destroy a large group of Islamic State (IS, formerly ISIS/ISIL) fighters in the eastern part of the Hama province was carried out with the active support of the Russian Air Force."
Russian planes destroyed terrorist strongholds and their armored hardware. The jets also targeted IS artillery positions, control points and communication outposts.
"The last major pocket of terrorist resistance in central Syria has been eliminated," the ministry said, adding that the Syrian army is now targeting the rest of the completely surrounded IS forces in the area.
Clearing Akerbat can be considered one of the most important battles against the terrorists by government forces, Ivan Konovalov, head of military policy at the Russian Institute for Strategic Studies, told RT.
"The so-called 'Akerbat pocket' is one of the most important battles at this stage. Destruction of a large enemy grouping in this region certainly affects the balance of power," Konovalov noted.
"Such successful military operations always matter – the enemy's troops and equipment are destroyed. The more often such operations are conducted, the closer we get to the end of the war," the expert explained, emphasizing the pivotal role Russian forces are playing in Syria.
The liberation of Akerbat is paving the way for a further offensive by the Syrian Army, in particular on Deir ez-Zor. The Syrian Army is expected to attack the terrorists from several directions and has been making rapid progress on that front.
"This is a strategic victory. Now all terrorists are locked up in Deir ez-Zore province," Konstantin Truyevtsev, a senior researcher at the Center for Arab and Islamic Studies told RT.
"Over time, this will have an impact on the development of the war, especially the capture of Deir ez-Zor, which is the last major stronghold of ISIS," Konovalov added.
The Syrian Army, backed by the Russian Air Force, continues to ramp up pressure on the jihadists to drive them out of the city of Deir ez-Zor. On Saturday the ministry announced that Russian jets have intensified its bombing of ISIS positions there.
Over the past 24 hours, Russian warplanes destroyed nine armored vehicles, including two tanks, six artillery positions, one home-made multiple rocket launcher, three supply depots and over 20 supply trucks carrying fuel, weapons and ammunition.
The Russian defense ministry has previously stated that breaking the blockade of Deir ez-Zor will mark the defeat of the last capable grouping of IS terrorists in Syria.
You can share this story on social media: