Russian diplomatic property in America 'inviolable', Assange tells US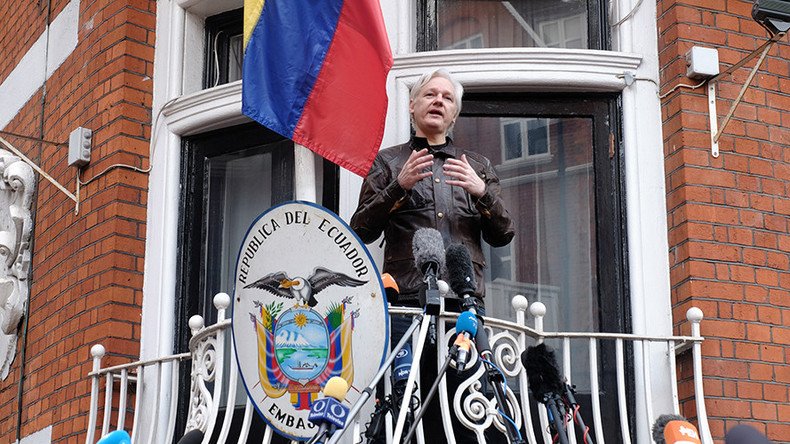 Whistleblower Julian Assange has accused the US of violating international agreements after it ordered Russia to vacate three diplomatic properties in the country within 72 hours, before searching them ignoring Moscow's protests.
"If Russia's missions are standard diplomatic properties then they are inviolable under the VDR [Vienna Convention on Diplomatic Relations of 1961] signed by the US," Assange, who remains holed up in the Ecuador embassy in London, tweeted Saturday.
Assange's tweet coincided with the deadline date set by Washington; by which the Russian consulate in San Francisco, and its annexes in New York and Washington were ordered to shutter their doors.
"It doesn't matter what Russia is doing with the properties. Once the US agrees to list them as diplomatic posts they become inviolable," continued Assange, who in a subsequent online discussion argued the "US has a right to expel any diplomat. Not property."
"The govt signed the treaty. It can demonstrate that its signature is worth nothing but that will affect all past and future agreements," surmised Assange.
Moscow similarly flagged up the Vienna Convention, the foundation document of post-war diplomatic relations, when it said the US had plans to search the Washington trade mission building and the San Francisco consulate, "including the staff flats."
Washington did not respond to these allegations, and on Saturday, Russia summoned the US deputy chief of mission in Moscow to protest what it called an "unprecedented aggressive action," and said the US could engage in "anti-Russian provocations" by "planting compromised items."
On Saturday evening, Russia's foreign ministry spokesperson Maria Zakharova said the planned searches had begun, and that diplomats would soon begin to post photo and video evidence of what she called a "travesty of justice."
The US itself said the shutdown order, issued on August 31, was made "in the spirit of parity" – a reference to Russia's July order to limit the number of the US diplomatic personnel in Russia to 455, bringing it in line with the number of Russian diplomatic staff in the US.
With both countries now left with three consulates, the US claimed the measures would "arrest the downward spiral in our relationship." Moscow though, has now promised the possibility of additional retaliatory measures.
Espionage and cyber warfare, which were given as the reasons for Barack Obama shutting two Russian state offices in 2016, were not listed as reasons this time, though Rick Smith, who oversaw the monitoring of the San Francisco consulate as part of his previous FBI brief, said the Russian mission had been used as a center of "intelligence operations… for decades."
"Spy[ing] on great powers is probably good. It keeps them honest and reduces paranoia. Question is not good or bad, but what is a treaty violation," Assange tweeted below his original post.
You can share this story on social media: